DEWA provides specialised training courses to engineers and technicians who are employed by photovoltaic (PV) companies.
Dubai, UAE, 11 November 2015: Dubai Electricity and Water Authority (DEWA) has trained 127 engineers and technicians of electrical and solar PV consultants and contractors. DEWA provides specialised training courses to engineers and technicians who are employed by photovoltaic (PV) companies. They learn technical requirements, safety requirements, and DEWAs guidelines for installing PV panels on rooftops as part of DEWAs Shams Dubai initiative enables customers to install PV panels on rooftops to generate electricity and connect it with DEWAs grid. The training courses and certification support DEWAs efforts to ensure PV systems are installed according to the highest international quality standards.

DEWA recently organised the fourth training course to train electrical and solar PV consultants and contractors. A total of 127 engineers and technicians have received certificates as Enrolled Electrical & Solar PV Consultants & Contractors. The courses include academic and practical training, covering all technical aspects of installing PV panels, and safety procedures.
"DEWA seeks to adopt the highest levels of quality and safety in its internal processes and external operations. This supports our strategy to develop staff, and work with our partners to enhance our operations to the highest levels of excellence and quality. This contributes to achieving the happiness of all stakeholders, the vision of our wise leadership, and the Dubai Plan 2021 for Dubai Government to be pioneering and excellent, and proactive and creative in meeting the needs of individuals and society as a whole," said HE Saeed Mohammed Al Tayer, MD & CEO of DEWA.
"DEWA is committed to making all staff and partners aware of the latest technologies and standards in performance and ensuring the highest levels of security and safety. Thats why we offer this training programme to register specialised consultants and contractors to install PV panels in residential, commercial, and industrial buildings. We call upon all manufacturers of solar power equipment and tools to register their products as eligible for DEWA so that solar systems are installed according to the highest standards, as part of the Shams Dubai initiative, launched by DEWA to support the Smart City initiative launched by His Highness Sheikh Mohammed bin Rashid Al Maktoum, Vice-President and Prime Minister of the UAE and Ruler of Dubai, to make Dubai the smartest city in the world," added Al Tayer.
DEWA has outlined easy steps to install photovoltaic systems in buildings to generate solar power as part of Shams Dubai. The installation process starts with the customer contacting one of the consultants or contractors accredited by DEWA to suggest the best solution and obtain the necessary approvals from DEWA. After completing installation, they will submit a notification to DEWA to conduct the technical inspection of the site and install the meter to complete the connection process. The electricity produced is used in the premises and the surplus is exported to DEWAs grid. An offset between exported and imported electricity units is conducted and the customer account is settled based on this offset. DEWA is encouraging building owners to take advantage of Shams Dubai by generating clean energy locally, which will reduce electricity bills, increase their property value, protect the environment, support Dubai's economy, and guarantee a sustainable future for the Emirate.
To register for training courses and review the terms and conditions, contractors and consultants should nominate their employees and register on their behalf, by visiting www.dewa.gov.ae/shamsdubai which has information about the training courses, registration requirements, and a list of consultants and contractors registered to install PV panels.
Featured Product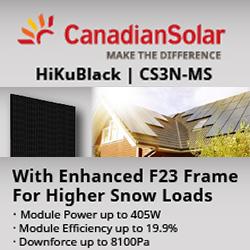 Aesthetic appearance for residential systems: With black backsheet & black frame, Power range 380 ~ 405 W, Low power loss in cell connection. Enhanced reliability: · Low temperature coefficient (Pmax): -0.34 % / °C, LID LeTID less than 2.0%, Lower hot spot temperature, Better shading tolerance.