The project is one of the largest of its kind in the western United States, drawing attention from leading energy companies worldwide.
EL CENTRO, Calif. - Representatives from the Imperial Irrigation District and Coachella Energy Storage Partners gathered today to mark the start of construction of the new IID battery energy storage system. The 30-megawatt, 20-megawatt-hour lithium-ion battery storage system, which will be constructed at the El Centro generating station, will increase reliability across the IID grid by providing the ability to balance power and integrate solar while providing spinning reserve and "black start" power restoration capabilities.

"As solar capacity, power purchase agreements and distributed generation rise in our electric system, this new battery energy storage system will help smooth variable generation and increase system-wide reliability. The system will provide a much faster, environmentally friendly alternative than traditional generation," said IID Board of Directors President Stephen Benson.
The project is one of the largest of its kind in the western United States, drawing attention from leading energy companies worldwide. "It is a game changer for the energy industry," said Ziad Alaywan P.E., who is the president and CEO of ZGlobal Inc. "It will be the largest battery storage system in the west and we look forward to its successful completion."
General Electric will provide Coachella Energy Storage Partners with an integrated storage solution. This is GEs largest energy storage project to date and the third lithium-ion storage project announced in recent months for the energy giant.
The project will use environmentally-safe lithium ion batteries, manufactured by Samsung SDI America who is the world-leading provider of batteries and battery management systems such as those being used for this project.
"We are proud to share IID's ambition to provide its stakeholders with more reliable energy through one of the strongest and largest energy storage projects in the nation, by providing our most innovative lithium-ion batteries and battery management system," said Fabrice Hudry, vice president of Energy Solutions for Samsung SDI. "Our solution is based on an unrivaled quality and safety design to enhance IID's grid resiliency, and we are committed to partner with IID, CESP, ZGlobal and GE throughout the product lifecycle with our industry renowned long-term performance guarantee."
The battery energy storage system is expected to be online by September 2016.
Featured Product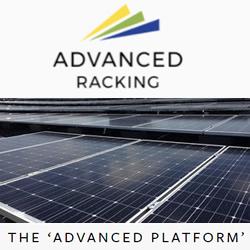 The 'Advanced Platform' simplifies the installation process by using universal mounting hardware that works perfectly across all roof types. Smart roof connection kits then connect to the specific roof's surface. The Advanced Platform is versatile: Our common design can be your single solution for all roof types.