• Siemens will deliver, install and commission 12 direct driven SWT-3.2-113 for the Les Gourlous wind farm in the Champagne-Ardennes region • Contract includes 20 year full service and maintenance agreement • Project will supply green energy for approximately 35,000 households
Siemens has been awarded an order for the delivery, installation and commissioning of 12 direct drive wind turbines at the Les Gourlous wind farm in France. The SWT-3.2-113 turbines for the wind farm in the Champagne-Ardennes region in France will have a total capacity of 38.4 megawatts (MW) and will supply approximately 35,000 households with green energy. Siemens will be providing long-term service for the new project within a 20-year service and maintenance agreement. During the past 12 months Siemens has already installed 127 MW of wind capacity in France. The new project is scheduled for commissioning in November 2016.

The company will collaborate with local suppliers for the construction work on site. Owner of the project is Austrian W.E.B. Windenergie AG, which operates wind farms in Europe and North America. W.E.B. Windergie AG is expanding its portfolio with Les Gourlous project, the largest wind farm in their 20-year history.
"We are very pleased to have found a new partner in Siemens to bring this flagship to fruition," states Michael Trcka, CFO of W.E.B. Windenergie AG.
Thomas Richterich, CEO Onshore at Siemens Wind Power and Renewables Division, emphasizes: "This is an important order for us since France is an emerging wind market and we are going to underline the advantages of our solutions at the most important wind energy trade show, EWEA 2015, which opens this week in Paris."
At the EWEA 2015 which takes place from November 17th to 20th in Paris, Siemens will present new products regarding wind energy plants, grid connections, operations and services. Siemens will be present at booth M01 pavilion 1, Paris Expo, Porte de Versailles.
For further information on Division Wind Power and Renewables, please see:
www.siemens.com/wind
Featured Product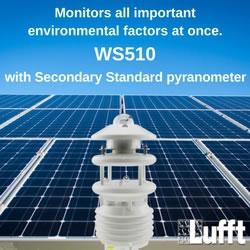 Professional weather sensors form the heart of large solar plants supporting their operation and performance. Lufft was the first manufacturer to combine several sensors in one housing, bringing the largest multiparameter weather sensor family with 19 members into being. Many of them are well-suited for solar site assessment and continuous monitoring. The most commonly used one is the WS600 delivering data on temperature, air pressure, wind, relative humidity and precipitation. Through its open protocol, it can easily be attached to radiation sensors e.g. from Kipp&Zonen. Other models have an integrated Silicon, Second Class or Secondary Standard radiation sensor.