To mark the visit of Indian Prime Minister Narendra Modi, the UK and India have published an "India-UK Joint Statement on Energy and Climate Change", which includes among other things:

· David Cameron expressing the UK's support for India's initiative for an international solar alliance for the promotion of solar technologies and applications
· the two Prime Ministers welcoming British solar company Lightsource Renewable Energy's plans to invest £2 billion in India, building over 3GW of solar electricity infrastructure including through a partnership with Srei Infrastructure Finance Ltd
· a Memorandum of Understanding between the two countries to promote closer collaboration on solar power and other energy technologies
· a commitment from the two countries to work together on R&D and other innovative solutions that could reduce the costs of clean energy
Leonie Greene, Head of External Affairs at the Solar Trade Association commented:
"The 3GW that a single British company is now going to build in India is six times more than the capacity our government is proposing nationally under the Feed-in Tariff over the next three years. We desperately need to get serious about this industry in the UK."
"We are delighted that Cameron is now going to support Modi's new solar alliance and wants to bring down costs, but that could ring hollow if his government effectively abandons the technology here in the UK."
"Solar policy is industrial policy. This statement demonstrates how backing your domestic industry is an investment in exports and exponential growth prospects later on. And slashing support for solar by up to 87%, putting countless British businesses and jobs at risk before they are ready to compete in the world market, is not just bad energy policy, not just bad environmental policy, but bad industrial policy too."
Featured Product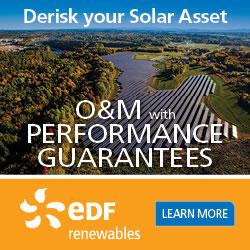 EDF Renewables offers the same innovative solutions that maximize the performance of our own 5.2 GW of installed projects. Because we're not an equipment manufacturer, our recommendations are transparent and data-driven. We cover the entire project lifecycle: from pre-commissioning support, through warranty and post warranty operation, to late stage and decommissioning.