Community Green Energy has partnered with the Green Leaf Inn of Delavan, Wisconsin to develop the first Community Virtual Solar Garden in southeast Wisconsin.
Community Green Energy (CGE) today announced that it will be developing a Community Virtual Solar Garden to be hosted at the Green Leaf Inn located in Delavan, Wisconsin. The Community Virtual Solar Garden will be the first of its kind in southeast Wisconsin and within Aliant Energy's electric service territory.

Through this arrangement, CGE will begin developing a 40 kW solar photovoltaic system on the grounds of the Green Leaf Inn. Homeowners and businesses can subscribe to purchase the output of the solar electricity generated and CGE will distribute the value of this production to individuals that choose to purchase panels in the Garden.
"Currently in the US, 75% of the population can't participate in solar, but through a Community Virtual Solar Garden, anyone with an electric bill has the opportunity to own solar, save money on their electric bills, and be part of a more sustainable future" explained Fritz Kreiss, CEO of CGE. This means that even those that rent, live in high rise or multi-family buildings, or simply have unfriendly roofs for solar will have an opportunity to obtain the benefits that solar provides through a central solar array.
Kreiss further elaborated, "CGE has built a platform that allows us to bring access to solar energy across state lines, including in states that don't presently enable traditional solar gardens or virtual net metering, such as here in Wisconsin. We are enabling anyone with an electric bill in the country to join projects like this and go solar for themselves. And for many in Wisconsin, this will be their first opportunity to go solar."
The project is expected to be completed during the late spring of 2016, but those interested in participating are encouraged to join fast because there is very limited space available in this project. Individuals that would like to participate in the Green Leaf Inn Community Virtual Solar Garden can inquire at myvirtualsolar.com/green-leaf-inn/ or 877-265-2799. Participation is awarded on a first come, first serve basis.
Featured Product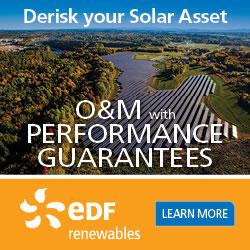 EDF Renewables offers the same innovative solutions that maximize the performance of our own 5.2 GW of installed projects. Because we're not an equipment manufacturer, our recommendations are transparent and data-driven. We cover the entire project lifecycle: from pre-commissioning support, through warranty and post warranty operation, to late stage and decommissioning.