Alliance BioEnergys CTS Fuel is Proving to Cost Remarkably Less to Build and Operate Compared to Other Cellulosic Ethanol Technologies and Traditional Corn Ethanol Plants
WEST PALM BEACH, Fla., Nov. 19, 2015 -- Alliance BioEnergy Plus, Inc. (OTCQB:ALLM) (the "Company"), announced today that with the completion of Front End Loading 2 (FEL 2) engineering the stark difference between the CTS process and all other fuel technologies is becoming more apparent from a capital building expense as well as yearly operating expense.

The CTS Cellulose Ethanol plant processing 1,000mt a day of virtually any cellulose biomass and producing upwards of 34 MMGY of high-grade ethanol with 86% less emissions than gasoline will cost approximately $1.97 a nameplate gallon to build.
By comparison DuPont just announced the opening of their 30 MMGY enzymatic cellulose ethanol plant in Iowa at a cost of $225 million. That is $7.50 a nameplate gallon to build. Last year Poet-DSM opened a 25 MMGY cellulosic ethanol plant at a cost of $250 million or $10.00 a nameplate gallon.
A traditional corn ethanol plant costs approximately $2.38 a nameplate gallon to build. The CTS process can also be added to a traditional corn ethanol plant as a bolt-on addition for a minimal cost. This will allow the corn plant to eliminate up to seven (7) current processes while reducing overall energy consumption by more than 70%. The plant can continue to process corn kernel with higher yields, recover 5x the valuable corn oil and begin to transition away from the kernel in favor of any other cellulose biomass, without any down time.
Alliance will be licensing its CTS Cellulose Ethanol bolt-on solution to ethanol producers while seeking to build and operate Cellulose Ethanol plants in the US and abroad.
About Process Engineering Associates, LLC:
Process Engineering Associates, LLC (PROCESS) is a chemical engineering company providing process design, applied chemical engineering, and process safety services to the petroleum refining, chemical production, alternative fuels, food grade products, nuclear materials processing, and all other process industries. PROCESS personnel are experienced, highly-motivated chemical engineers with track records of significant achievement in all facets of process engineering including significant work in ethanol, bio-diesel and other alternative fuels. Past and current clients include Poet, BP Amoco, Conoco Phillips, Exxon Mobil, Unilever, IBM, Southern California Gas, American Ethanol, Halliburton Energy, Lockheed Martin and many others.
About ALLM:
Alliance BioEnergy +, Inc. ("ALLM") (OTCQB:ALLM), is a publicly traded company focusing on "Green" energy and renewable technologies. ALLMs subsidiaries focus on emerging technologies in the renewable energy, bio-fuels and new technologies sectors. ALLM owns a fifty percent interest in Carbolosic, LLC, and the exclusive rights to North America (including Canada, U.S. and Mexico) and Africa. Carbolosic holds the exclusive, worldwide license to the patented mechanical/chemical technology, "CTS™" developed by the University of Central Florida. The CTS Cellulose Ethanol technology is able to produce a high quality clean burning Ethanol from virtually any plant material cheaper, quicker and without any hazardous inputs.
Featured Product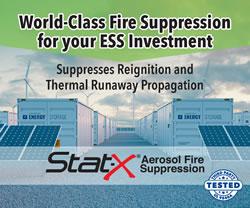 Stat-X® condensed aerosol fire suppression is a solution for energy storage systems (ESS) and battery energy storage systems (BESS) applications. Our Stat-X condensed aerosol fire extinguishing product was tested for efficacy in suppressing li-ion battery fires. It was found that the product successfully extinguished single and double cell battery fires. This testing was conducted in parallel with a large battery fire testing program on behalf of a large energy storage company.