Variable renewable energy generation is driving interest in grid-tied energy storage technologies, report finds
BOULDER, Colo.--A new report from Navigant Research examines the market for grid-tied energy storage systems (ESSs) in 22 countries, with forecasts for power capacity, energy capacity, and revenue, segmented by technology, through 2025.

While system costs remain one of the largest hurdles to the energy storage industrys growth, declining prices are helping to move the technology into diverse geographic markets. Because energy storage is quickly becoming a flexible and cost-effective tool for users to control energy costs and for grid operators to manage network instability, several countries are projected to see substantial growth in deployments in the coming decade, with five country-level markets in Asia Pacific expected to experience the largest increases globally. Click to tweet: According to a new report from Navigant Research, new energy storage deployments in Asia Pacifics five major markets are expected to total nearly 37 GW from 2015 to 2025.
"As the industry expands, different countries are expected to rely on different mixes of energy storage technologies and applications best suited to serve the needs of their local electricity grids," says Alex Eller, research associate with Navigant Research. "As expected individual market leaders for energy storage, the United States and China are projected to have a more balanced mix of utility-scale and distributed storage deployments, while other countries are likely to heavily favor one application."
The increasing amount of variable renewable energy generation being deployed in major markets worldwide, primarily solar photovoltaic and wind energy, is also driving interest in grid-tied energy storage technologies, according to the report. Despite their advantages, however, these variable forms of generation are also presenting new challenges to the electrical grid.
The report, Country Forecasts for Grid-Tied Energy Storage, analyzes the capacity and revenue of grid-tied energy storage systems that will be deployed in major markets around the world. The forecasts cover both utility-scale and distributed energy storage applications for the nine most popular technologies in each country. This study also examines the key factors contributing to the opportunities for energy storage in the 22 major countries profiled. Country-level forecasts for power capacity, energy capacity, and revenue by technology extend through 2025. An Executive Summary of the report is available for free download on the Navigant Research website.
About Navigant Research
Navigant Research, the dedicated research arm of Navigant, provides market research and benchmarking services for rapidly changing and often highly regulated industries. In the energy sector, Navigant Research focuses on in-depth analysis and reporting about global clean technology markets. The teams research methodology combines supply-side industry analysis, end-user primary research and demand assessment, and deep examination of technology trends to provide a comprehensive view of the Energy Technologies, Utility Transformations, Transportation Efficiencies, and Buildings Innovations sectors. Additional information about Navigant Research can be found at www.navigantresearch.com.
About Navigant
Navigant Consulting, Inc. is an independent specialized, global professional services firm that combines deep industry knowledge with technical expertise to enable companies to defend, protect and create value. With a focus on industries and clients facing transformational change and significant regulatory and legal issues, the Firm serves clients primarily in the healthcare, energy and financial services sectors which represent highly complex market and regulatory environments. Professional service offerings include strategic, financial, operational, technology, risk management, compliance, investigative solutions, dispute resolutions services and business process management services. The Firm provides services to companies, legal counsel and governmental agencies. The business is organized in four reporting segments - Disputes, Investigations & Economics; Financial, Risk & Compliance; Healthcare; and Energy. More information about Navigant can be found at navigant.com.
Featured Product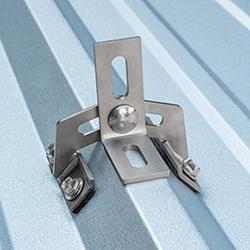 Explore new lines of income for your solar installation business with QuickBOLT's Stone Coated Steel roof mounts designed in partnership with metal roof manufacturers themselves. These SCS roof mounts work on all metal tile profiles and will help you bring in money you're missing out on. By not driving into the roofing material, QuickBOLT's Stone Coated Steel roof hooks maintain the integrity of the roof. Install with ease and confidence knowing your roof is protected against the harsh elements that these hooks are designed for.