This transaction is the third of five signed agreements between BlackRock and EDF Renewable Energy to close.
SAN DIEGO & NEW YORK--EDF Renewable Energy (EDF RE) has closed on the transaction to sell a 50 percent interest in the 194 megawatt (MW) Spinning Spur 3 Wind Project to a fund managed by BlackRocks Infrastructure Investment Group ("BlackRock Infrastructure"). This transaction is the third of five signed agreements between BlackRock and EDF Renewable Energy to close. The remaining projects, Roosevelt (250 MW) and Milo (49.65 MW) wind projects, will close upon completion of construction and tax-equity financing.

The Project, located 50 miles west of Amarillo in Oldham County, commenced construction of its 97 Vestas V-100 2 MW wind turbines in October 2014 and declared commercial operation in September 2015. The clean electricity generated from the Spinning Spur 3 Wind Project feeds into the CREZ (Competitive Renewable Energy Zone) transmission infrastructure and provided to two municipal utilities, Georgetown Utility Systems and Garland Power & Light, under long-term Power Purchase Agreements.
EDF RE remains closely involved in Spinning Spur 3 Wind maintaining 50 percent ownership stake. EDF Renewable Services, the leading provider of renewable operations and maintenance services in North America, will provide balance-of-plant operations and maintenance for the facility including 24/7 remote monitoring from its NERC compliant Operations Control Center (OCC).
BlackRock operates one of the largest renewable power investment platforms in the world with over $1.5 billion of equity assets under management. The Longhorn project is the 32nd transaction completed to date by BlackRock Infrastructure in the renewables space, bringing the total invested portfolio to approximately 1,300 MW of wind and solar projects located across the USA, Canada, Ireland, Sweden, France and the UK.
EDF Renewable Energy is one of the largest renewable energy developers in North America with 6 gigawatts of wind, solar, biomass, and biogas projects developed throughout the U.S., Canada, and Mexico.
About EDF Renewable Energy:
EDF Renewable Energy is a leading U.S. independent power producer with more than 25 years of expertise in the renewable industry, covering all range of services from project development, management to operations and maintenance. EDF Renewable Energy specializes in wind and solar photovoltaic with presence in other segments of the renewable energy market: biogas, biomass, hydro, marine energy and storage solutions. The company develops, constructs, operates and manages renewable energy projects throughout the United States for its own accord as well as for third parties. EDF Renewable Energys North American portfolio consists of 6 gigawatts of developed projects with 3.2 gigawatts of installed capacity throughout US, Canada, and Mexico. EDF Renewable Energy is a subsidiary of EDF Energies Nouvelles. EDF Energies Nouvelles is the renewable energy arm of the EDF group, the leading electricity company in the world. For more information visit: www.edf-re.com
About BlackRock Infrastructure:
BlackRock, the largest investment manager in the world with $4.506 trillion of AUM as of September 30, 2015, sits at the intersection of global capital and infrastructure investing opportunities. With deep industry expertise, demonstrated access to proprietary deal flow and a purely fiduciary mindset, our experienced investment professionals leverage BlackRocks unparalleled risk management capabilities and global reach to deliver compelling investment opportunities to meet our clients needs. BlackRock provides investors with infrastructure equity and debt investments via Funds, Co-Investments, Managed Accounts and Infrastructure Solutions and currently has over $7.5 billion in invested and committed assets. Our team of infrastructure investment professionals is based in New York, London, Dublin, Mexico, Paris, Hong Kong, Seattle, Stockholm and Zurich.
Featured Product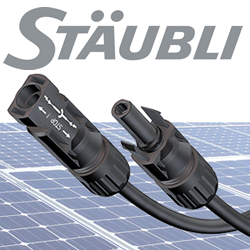 ​Stäubli Electrical Connectors are used on more than 300 GW, over 50% of the PV capacity worldwide. The MC4 family of UL and TUV listed products include connectors, in-line fuses, branch connectors, cable assembly and more.