GE is accelerating solar technology innovation in India by introducing its proven 1.5kV inverter into the local market ---Solargise India Private Limited is to build solar farms totaling 150 MW across various states in India using GE LV5 1.5kV inverters, thereby becoming GEs largest solar partner in the country ---Annually, this technology is set to save up to $ 350,000 in costs for Solargise
London - November 24, 2015 - The Indian solar industry is booming. Supportive government policies and technical advances have played constructive roles in the growth of grid connected solar power while at the same time bringing the cost down, resulting in a 60% reduction in the cost of solar power generation between 2011 and 2014 alone. Policies are also being put in place to promote the installation and expansion of solar power with the Indian government setting a target of 100GW in installed solar capacity by 2022.

With solar farms being built in 7 different locations across the country, Solargise, partnering with GE, has taken the lead in driving the next technology shift for utility-scale solar power in India. For some of their most recent and largest projects, Solargise turned to GE for reliable inverter technology to drive their business forward. GEs Power Conversion business was recently awarded a contract to provide 150 1.5kV solar inverters to Solargise which will be deployed primarily in the states of Andhra Pradesh, Telangana, Gujarat, Rajasthan, MP and Karnataka, totaling 150 MW in power output.
"As the solar industry continues to grow in India, having the right partner is as crucial as having the right technology. GE as a global market leader has extensive experience and a successful track record in the solar industry. Their intelligent technology will enable us to be more competitive by increasing plant efficiency and reducing our overall system costs. With the positive professional relationship that has already been developed between us, we feel that this is a natural partnership between Solargise and GE. GE is and will remain an integral partner as, with our combined strengths, we intend to grow together in the Indian solar market" said, Raj Basu, Executive Chairman, Solargise India Pvt Ltd.
GEs 1.5kV inverters provide a host of benefits compared to the current standard market offering of 1kV inverters. As a result of the higher DC voltage GEs technology enables a reduced number of electrical components thereby reducing the infrastructure and operating cost of the farm. The LV5 product has been designed and tested for high reliability with minimal maintenance or replacement of components required in the inverter over the solar plants lifetime of more than 20 years.
Commenting on the deal, Peter Oram, Global Renewables Sales Leader, GE Power Conversion said, "GE is excited to take part in the solar surge in India, helping the local solar industry become increasingly viable and cost competitive. By introducing the 1.5kV inverters in India, we are pleased to be able to help our customers increase revenues in the long term. And we expect this deal to be the first of many with Solargise and other customers in the region."
GE will provide inverters in three batches with the delivery of the first 10 inverters scheduled in December 2015. The remaining deliveries will be made throughout 2016 depending on individual project schedules. Apart from supplying and commissioning, GE will also provide training to local solar power plant operators and maintenance personnel to optimize inverters performance.
About GE
GE (NYSE: GE) is the worlds Digital Industrial Company, transforming industry with software-defined machines and solutions that are connected, responsive and predictive. GE is organized around a global exchange of knowledge, the "GE Store," through which each business shares and accesses the same technology, markets, structure and intellect. Each invention further fuels innovation and application across our industrial sectors. With people, services, technology and scale, GE delivers better outcomes for customers by speaking the language of industry. www.ge.com
About GE Power Conversion
GE Energy Management provides customers with electrical solutions that enable local utilities and energy-intensive industries to more efficiently manage electricity from the point of generation to consumption. GEs Power Conversion business, a business unit of GE Energy Management, applies the science and systems of power conversion to help drive the electrification of the worlds energy infrastructure by designing and delivering advanced motor, drive and control technologies that evolve todays industrial processes for a cleaner, more productive future. Serving specialized sectors such as energy, marine, oil and gas, renewables and industry, through customized solutions and advanced technologies, GE Power Conversion partners with customers to maximize efficiency. To learn more, please visit: www.gepowerconversion.com
Follow GEs Power Conversion business on Twitter and on Linkedin.
About Solargise India Pvt. Ltd.
Founded by Raj Basu, Solargise is a technology focused utility-scale solar power project development and operating company created to take advantage of the large scale solar build-out projected in India. Solargise will develop 3.6GW of best of breed assets over the 7-8 years in India using superior GE products and our patented cell and module technology. www.solargise.world
Featured Product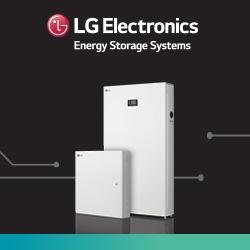 The NeON R module features "Back Contact" cell technology delivering an entirely black panel that is aesthetically pleasing and energy efficient. The cell's seamless, surface blends perfectly into nearly all rooftop designs while the module's electrodes are positioned on the rear of the cell. Using LG's N-type cell structure, the panels produce 365W of energy, up to 7.3kWp, compared to 5.8kWp of the p-type cell. The module's new design minimizes LID, thereby delivering a longer lifespan and increased energy output.