"Southern Powers first solar project in Texas helps further the companys robust wholesale business and further expands our solar footprint"
ATLANTA (November 30, 2015) - Southern Company subsidiary Southern Power today announced the acquisition of a controlling interest in the 157-megawatt (MW) Roserock solar facility - the companys first solar project in Texas - from Recurrent Energy, one of North Americas largest solar developers. The latest addition to one of Americas largest renewable portfolios, the facility is being developed by Recurrent Energy, a subsidiary of Canadian Solar Inc., which will retain the remaining interest in the project.

"Southern Powers first solar project in Texas helps further the companys robust wholesale business and further expands our solar footprint," said Southern Power President and CEO Oscar C. Harper. "With strategic acquisitions nationally, the continued development of industry-leading assets aligns with our companys low-risk strategy and enhances one of Americas largest renewable portfolios."
Representing Southern Power and Recurrent Energys second partnership arrangement, the project, currently under construction, is expected to enter commercial operation in the fourth quarter of 2016.
"Cost-competitive, large-scale solar power has enormous potential in Texas," said Canadian Solar Inc. Chairman and CEO Shawn Qu. "The Roserock project and Recurrent Energys solar project pipeline in the state are each important steps forward as Texas approaches the more than 13 gigawatts (GW) of solar that has been forecasted across the state."
The electricity and associated renewable energy credits generated by the facility will be sold under a 20-year power purchase agreement with Austin Energy.
McCarthy Building Companies is providing the engineering, procurement and construction of the Roserock solar facility, which is expected to create approximately 500 local construction jobs. Once completed, the project is expected to generate enough solar energy to power the average energy needs of approximately 30,000 Texas homes.
Located on 1,300 acres of land in Pecos County, Texas, the facility will consist of approximately 700,000 Canadian Solar CS6X-P photovoltaic solar modules, mounted on single axis trackers. The facility layout was developed in cooperation with mineral operator Apache Corporation.
With one of Americas most robust renewable generation portfolios, Southern Power has announced, acquired or is constructing more than 1,700 MW of renewable asset ownership with 23 solar, wind and biomass projects. This facility will add further diversity and reliability to the Southern Company systems generation mix of nuclear, 21st century coal, natural gas, renewables and energy efficiency.
Southern Powers 20th solar acquisition, the Roserock solar facility fits Southern Powers business strategy of growing its wholesale business through the acquisition and construction of generating assets substantially covered by long-term contracts.
About Southern Power
Southern Power, a subsidiary of Southern Company, is a leading U.S. wholesale energy provider, meeting the electricity needs of municipalities, electric cooperatives and investor-owned utilities. Southern Power and its subsidiaries own or have rights to 32 facilities in nine states, with more than 10,300 MW of generating capacity operating or under development in Alabama, California, Florida, Georgia, Nevada, New Mexico, North Carolina, Oklahoma and Texas.
About Recurrent Energy
Recurrent Energy, a subsidiary of Canadian Solar Inc., is redefining what it means to be a mainstream clean energy company, with utility-scale solar plants that provide competitive clean electricity. The company has more than 4 GW of solar projects in development in North America. Additional details are available at: www.recurrentenergy.com
About Canadian Solar Inc.
Founded in 2001 in Canada, Canadian Solar (NASDAQ: CSIQ) is one of the worlds largest and foremost solar power companies. As a leading manufacturer of solar photovoltaic modules and a provider of solar energy solutions, Canadian Solar has a geographically diversified pipeline of utility-scale power projects. In the past 14 years, Canadian Solar has successfully deployed over 12 GW of premium quality modules in over 70 countries around the world. Furthermore, Canadian Solar is one of the most bankable companies in the solar industry, having been publically listed on NASDAQ since 2006. For additional information about the company, follow Canadian Solar on Facebook, Twitter, LinkedIn, or on the website.
About Southern Company
With more than 4.5 million customers and approximately 46,000 megawatts of generating capacity, Atlanta-based Southern Company (NYSE: SO) is the premier energy company serving the Southeast through its subsidiaries. A leading U.S. producer of clean, safe, reliable and affordable electricity, Southern Company owns electric utilities in four states and a growing competitive generation company, as well as fiber optics and wireless communications. Southern Company brands are known for excellent customer service, high reliability and affordable prices that are below the national average. Through an industry-leading commitment to innovation, Southern Company and its subsidiaries are inventing Americas energy future by developing the full portfolio of energy resources,
including nuclear, 21st century coal, natural gas, renewables and energy efficiency, and creating new products and services for the benefit of customers. Southern Company has been named by the U.S. Department of Defense and G.I. Jobs magazine as a top military employer, listed by Black Enterprise magazine as one of the 40 Best Companies for Diversity and designated a 2014 Top Employer for Hispanics by Hispanic Network. The company earned the 2014 National Award of Nuclear Science and History from the National Atomic Museum Foundation for its leadership and commitment to nuclear development, and is continually ranked among the top utilities in Fortune's annual Worlds Most Admired Electric and Gas Utility rankings. Visit our website at www.southerncompany.com.
Featured Product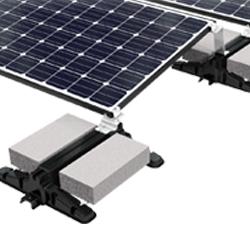 The Power Rail™ Commercial Mounting System is designed with the professional PV solar installer in mind. Both the XD/UD and LD/MD rails feature single tool assembly with the revolutionary patented RAD™ Lock-in-Place bolt for fast and secure module clamping. The high strength marine-grade aluminum rails include an integral wiring channel for securing cables and providing a professional finish.