Merger represents a pooling of resources by 2 of the premier solar companies in the Southeast.
Charleston, South Carolina (December 1, 2015)

Sustainable Energy Solutions (SES) and Solbridge Energy are pleased to announce a merger which is expected to be completed by January 1, 2015. The newly formed entity is called Southern Current (www.southerncurrentllc.com).
This merger represents a pooling of the expertise and resources of two of the premiere solar developers in the Southeast. Southern Current will be active in residential, commercial and utility-scale solar development throughout the Southeast, and will be led by Solbridge founder Kent Trowbridge and SES founders Paul Fleury and Greg White.
"Solbridge has a long, successful relationship with SES and is excited to make official the great partnership we have shared," said Mr. Trowbridge. "The combination of our two companies will significantly increase our ability to develop projects of all sizes."
The combined companies have executed projects in 7 states ranging in size from 5 kW residential roof-top installations to the development of 6.5 megawatt (MW) solar farms. The operators of Southern Current have installed over 250 solar systems and have developed over 40 MW of operating solar farms. Southern Current anticipates that it will install over 300 residential and commercial solar projects and that an additional 300 MW of their current solar farm pipeline will be commissioned before the end of 2016.
"This merger positions us well for 2016 and beyond as the solar landscape continues to expand and change," said Mr. Fleury. "New opportunities await and we will be ready to aggressively pursue them as they emerge."
"We are excited to join forces with the established team at Solbridge, and look forward to future opportunities and success," added Mr. White.
For questions or additional information about Southern Current, please contact Jon Downey at (877) 878-7652 x700 or email at jdowney@southerncurrentllc.com. Southern Current is headquartered at 1634 Ashley River Road, Charleston, SC 29407.
About Sustainable Energy Solutions
Located in Charleston, Sustainable Energy Solutions brings alternative energy technologies and expert energy consultations to homes and businesses in South Carolina and beyond. The driving force behind SES is the desire to spread environmental awareness by promoting responsible energy consumption practices. Learn more by calling (843) 277-2090 or visiting www.sccleanenergy.com.
About Solbridge Energy
Solbridge Energy is a solar development company specializing in identifying and securing sites that have a high probability of reaching commissioning. Solbridge is focused on markets in the Eastern United States.
Featured Product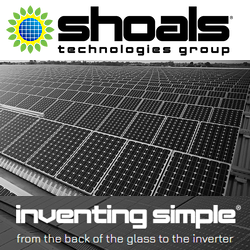 Inventing Simple® isn't just a slogan to us, it's a way of life. Using simple plug-and-play ideology, we revolutionized solar installations in 2003 with our Interconnect System™. Our harnessing system is now the gold standard EPC's use around the world. By using simple ideas, we are making solar energy a more affordable and clean power source for future generations.