Hear New Opportunities in the Biofuels / Bio-Based Materials Nexus
Los Angeles, CA December 02, 2015 -- Infocast's Bio-Based & Renewable Fuels Forum is set to take place on January 12, 2016 in San Diego and will be co-located with the 7th Annual Bio-Based & Sustainable Products Summit. The Forum will provide details on new opportunities within the Biofuels/Bio-Based Materials Nexus.

The Bio-Based Fuels industry is currently in a state of flux - volatility in oil prices and tighter carbon regulations are driving aviation, marine and transportation fleets to adopt bio-based & renewable fuels. Alternative fuels are being adopted by fleet owners all over North America, due to the greenhouse gas reduction goals, fossil fuel market volatility, and renewable energy initiatives. But renewable fuel companies are fighting an uphill battle against low fossil fuel feedstock prices, leading some companies to look to higher value bio-based chemicals, materials and plastics.
Infocast's Bio-Based & Renewable Fuels Forum will address the transformation of the Biofuels Industry and outline new opportunities in the Biofuel/Bio-Based Materials Nexus. Aviation, marine & automobile fleet owners will gather with biodiesel, biofuel, ethanol and renewable natural gas stakeholders, agribusiness, financiers, and government decision makers to map out renewable fuels commercial adoption and policies.
The Summit is sponsored by xF Technologies, TKingsbury LLC, GEA Group, Acme-Hardesty & SwRI, and features speakers from Abengoa Bioenergy, ADM, Alaska Airlines, Coalition for Renewable Natural Gas, Kilpatrick Townsend & Stockton, Los Angeles County Metropolitan Transportation Authority, Lux Research, New Energy Investors, Oberon Fuels, Red Rock Biofuels, Renewable Energy Group, Stern Brothers & Co., The Boeing Company, United States Postal Service, xF Technologies and more!
For more information, to register, or join as a sponsor, visit the event website at infocastinc.com/biobased-renewable-fuels or contact Infocast at 818-888-4444.
About Infocast
For over 25 years, Infocast has produced the highest quality events, tailored to the needs of the industries we serve. We intensively research the marketplace, pulling from an extensive network of experts to give you the information and connections to succeed.
Featured Product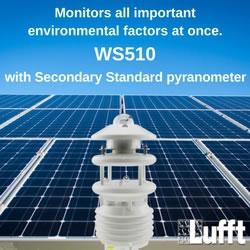 Professional weather sensors form the heart of large solar plants supporting their operation and performance. Lufft was the first manufacturer to combine several sensors in one housing, bringing the largest multiparameter weather sensor family with 19 members into being. Many of them are well-suited for solar site assessment and continuous monitoring. The most commonly used one is the WS600 delivering data on temperature, air pressure, wind, relative humidity and precipitation. Through its open protocol, it can easily be attached to radiation sensors e.g. from Kipp&Zonen. Other models have an integrated Silicon, Second Class or Secondary Standard radiation sensor.