NuPower Renewables has nearly 700 MWs of renewable energy assets operating and in pipeline across 6 states in India.
Mumbai, Maharashtra. December 03, 2015 -- NuPower Renewables, one of India's leading IPPs (Independent Power Producer) in the renewable energy sector, commissions another 30 MW wind power project in Vaspeth village of Sangli district in Maharashtra. This wind power project is built from end to end on a self-development basis with 2.05 MW wind turbines manufactured by NuPower with advanced German technology from Wind-to-Energy (W2E), GmbH.

This fits squarely within the 'Make-in-India' initiative of Shri. Narendra Modi, Honorable Prime Minister of India.
NuPower has nearly 700 MW of renewable energy assets operating and in pipeline located across Tamil Nadu, Karnataka, Rajasthan, Maharashtra, Andhra Pradesh and Madhya Pradesh.
The company owns and operates one of the largest single location wind power project capacity being 100 MW in the state of Tamil Nadu.
Over last few years wind power tariffs have almost achieved grid parity, and since they are fixed for 20 years with state grids, wind power shall become one of the cheaper sources of power on the grid in the years to come.
IPPs like NuPower Renewables are contributing to achieve India's target for additional renewable capacity of 160 GW of wind & solar power by 2022. In fact, in the last few years majority of the additional renewable capacity in India have been installed by such IPPs.
The implementation period of Renewable energy projects is shorter than conventional power plants; therefore capacity ramp up of renewable energy projects will be faster.
Renewable energy sector is attracting Foreign Direct Investments (FDI) into India in recent years and IPPs like NuPower are best positioned to be recipients of such FDI in the renewable energy space.
NuPower has ambitious capacity addition plans in the renewable energy space and is well set to contribute to the Indian renewable energy target in coming years.
"To contribute to the energy security of India & combat climate change, NuPower shall actively participate towards achieving India's target of 160 GW of wind & solar power by 2022" says Deepak Kochhar, Founder & CEO, NuPower Renewables.
Featured Product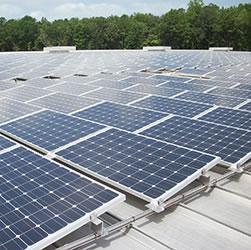 The Power Rail™ Commercial Mounting System is designed with the professional PV solar installer in mind. Both the XD/UD and LD/MD rails feature single tool assembly with the revolutionary patented RAD™ Lock-in-Place bolt for fast and secure module clamping. The high strength marine-grade aluminum rails include an integral wiring channel for securing cables and providing a professional finish.