Storage is expected to play an increasingly important role for California utilities as they work to achieve the states ambitious clean energy goals.
SAN FRANCISCO--Pacific Gas and Electric Company (PG&E) this week expanded its commitment to clean energy by presenting its first 75MW of energy storage contracts to the California Public Utilities Commission for review and approval. Californias Energy Storage Decision requires investor-owned utilities to procure 1,325MW of storage by 2020. PG&Es share is 580MW.

Storage is expected to play an increasingly important role for California utilities as they work to achieve the states ambitious clean energy goals. By the end of 2015, PG&E forecasts that about 30 percent of its retail electric deliveries will come from renewable sources. Energy storage will help integrate many of those resources, such as wind and solar, which are intermittent or provide peak output during times of low demand.
Energy storage has been a part of PG&Es power mix for decades, starting with the Helms Hydroelectric Facility and continuing with pilot projects such as the 2MW Battery Storage Pilot at the Vacaville Substation and the 4MW Yerba Buena Battery Energy Storage System located on the property of Silicon Valley storage technology company HGST.
On December 1, 2014, PG&E issued a request for offers (RFO) to solicit proposals for energy storage projects. In addition to third-party owned storage offers, PG&E issued a list of five distribution substations where it would like to consider energy storage projects on distribution circuits to defer distribution investments. PG&E also identified three sites where it owns and operates solar photovoltaic facilities where energy storage could be added.
Fong Wan, PG&E senior vice president for Energy Policy and Procurement, said he was pleased with the first list of projects, and the role storage will play as PG&E works to meet renewable energy and storage goals.
"PG&E supports the states efforts to enable energy storage to play its appropriate role in the California electric grid to support the integration of utility scale and customer connected renewables, and is excited to take this first step in implementing these goals," Wan said.
Over the last 12 months PG&E staff reviewed applications from numerous vendors interested in participating in the storage market. In selecting offers for storage projects, PG&E looked for projects which met at least one of three goals - grid optimization, renewable energy integration and greenhouse gas reduction.
The seven projects selected include four Lithium Ion Battery projects, two Zinc/Air Battery storage facilities and one Flywheel project, a first for PG&E. Flywheel technology uses kinetic energy to store energy and later supply that energy to the grid.
The first projects are due to come online in May of 2017.
Counterparty (Project Name)
Storage Technology
Size (MW)
* Amber Kinetics (Energy Nuevo) Flywheel 20.00
* Hecate Energy (Molino) Lithium Ion Batteries 10.00
* NextEra Energy (Golden Hills) Lithium Ion Batteries 30.00
* Convergent (Henrietta) Zinc/Air Batteries 10.00
* Western Grid (Clarksville) Zinc/Air Batteries 3.00
* Hecate Energy (Old Kearney) Lithium Ion Batteries 1.00
* Hecate Energy (Mendocino) Lithium Ion Batteries 1.00
About PG&E
Pacific Gas and Electric Company, a subsidiary of PG&E Corporation (NYSE:PCG), is one of the largest combined natural gas and electric utilities in the United States. Based in San Francisco, with more than 20,000 employees, the company delivers some of the nations cleanest energy to nearly 16 million people in Northern and Central California. For more information, visit www.pge.com/ and www.pge.com/en/about/newsroom/index.page.
Featured Product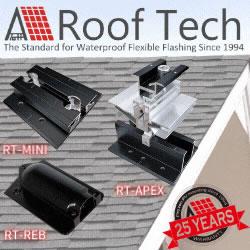 Now Roof Tech brings you the most innovative, watertight mounting systems ever developed for solar photovoltaic systems. Designed and manufactured exclusively for us by Japan's longtime leader in roofing technologies, Roof Tech products are 100% code-compliant and offer fast, simple installation and huge savings on shipping costs due to their compact, rail-less design. Learn more about our full line of versatile PV mounting solutions now available for residential installations. The next generation in rooftop solar mounting solutions."