-- Ribbon Cutting Ceremony Set for December 4 to Celebrate Facilitys Economic, Environmental and Social Impact on San Joaquin Valley Region in California --
FRESNO COUNTY, Calif. & VENTURA, Calif.--Biodico, a sustainable biofuel and bioenergy company, today announced its Biodico Westside Facility, the worlds first biofuel production facility that operates entirely on renewable heat and power generated on-site, will go online the first week of December.

The facility produces up to 20 million gallons of biodiesel per year, employing multi-feedstock functionality, as well as incorporating advanced sensors for real-time and remote monitoring leading to complete system automation.
"Our new facility in the San Joaquin Valley produces economically and environmentally viable biobased fuel and energy for local farmers and truckers, and creates new jobs in the community," said Biodico President and Founder, Russ Teall. "This facility demonstrates Biodicos commitment to an integrated value chain model that includes accelerated and inexpensive construction and deployment, enhanced throughput with reduced operating costs, and increased monetization of renewable fuel and energy."
Biodico will host a ribbon-cutting ceremony at the facility on Friday, December 4, 2015, featuring the "Sustainable Rhythm" of the Mendota High School Marching Bands drumline. Details follow:
Who: Biodico, a company that is changing the face of biofuel production by utilizing sustainable solutions to convert diverse feedstocks into environmentally sound renewable sources of fuel and energy.
What: Ribbon-cutting ceremony to celebrate the worlds first fully sustainable biofuel facility.
When/Where: Friday, December 4, 2015, 11:30 a.m. to 1 p.m. at Red Rock Ranch in Five Points, Fresno County, Calif.
Why: Fossil fuels are finite and the world needs economical alternatives that reduce toxic air emissions and greenhouse gases.
Media Contact: For information about attending the event or to schedule an interview, please contact Evan Pondel, epondel@pondel.com, (310) 279-5980.
About Biodico: Biodico is a privately held company headquartered in Ventura, Calif. that (1) builds, owns and operates sustainable biofuel and bioenergy facilities, (2) conducts research, development, and validation studies with the U.S. Navy, and (3) collaborates with strategic joint venture partners to commercialize new technology and initiatives. The company and its management have been pioneers in the industry for the past 23 years, with an emphasis on using advanced, patented and proprietary technologies for the sustainable multi-feedstock modular production of next generation biofuels and bioenergy. Additional information about Biodico can be found on the companys website at http://www.biodico.com.
Featured Product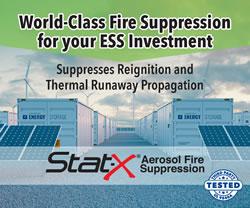 Stat-X® condensed aerosol fire suppression is a solution for energy storage systems (ESS) and battery energy storage systems (BESS) applications. Our Stat-X condensed aerosol fire extinguishing product was tested for efficacy in suppressing li-ion battery fires. It was found that the product successfully extinguished single and double cell battery fires. This testing was conducted in parallel with a large battery fire testing program on behalf of a large energy storage company.