An Announcement made by EWP earlier today confirms a European Union grant for Eco Wave Power's wave energy Project in Gibraltar.
According to the Power Purchase Agreement between EWP, Gibelec and the Ministry for the Environment, Energy and Climate Change in Gibraltar (led by Honorable Minister Dr. John Cortes) Eco Wave Power will construct a 5MW wave energy power station in two phases.

During the first phase, Eco Wave Power will implement a 100KW power station on the Ammunition Jetty, and in the second phase the power plant will be expanded to a size of 5MW, which will provide up to 15% of Gibraltar's electricity needs. This percentage will enable Gibraltar to meet its renewable energy commitments to the EU by 2020.
Eco Wave Power successfully obtained the EU co-funded grant under the 2014-2020 European Regional Development Fund Operational Programme in support of renewable energy that is meant to ensure that Gibraltar has secure, affordable and climate-friendly energy, while using wiser energy production methods to combat climate change and creating business innovation.
Mr. David leb (Founder and CEO) and Ms. Inna Braverman (Co-Founder) said that: "We are very grateful and excited with the opportunity to build our wave energy power plant in Gibraltar, with the assistance from the EU. Wave energy is a growing industry and the financial contribution made by the EU is very significant and shows positive progress in the right direction."
EWP's Co-Founders are also taking part in COP21 in Paris (The Sustainable Innovation Forum) and will represent the wave energy sector in the Private Sector Forum to be held on the 7th of December and in the High Level Meeting on the 8th of December.
For further information please contact Eco Wave Power at phone: +97235094017, fax: +97236202807, email: info@ecowavepower.com
Featured Product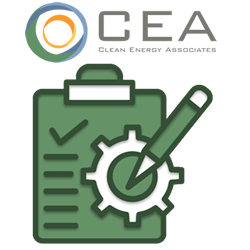 Clean Energy Associates provides a complete quality assurance solution that covers the entire product lifecycle of PV modules, storage systems, and every Balance of Sy stem (BOS) component. CEA's experienced on-the-ground and international team of quality control engineers and account managers offer an unparalleled quality assurance presence that can protect solar and storage investments and ensure future energy-producing viability for the life of the product.