SunEdison's first large scale, grid-connected energy storage project helps the IESO plan the future of the grid --- Imergy Power Systems will supply its durable and cost effective vanadium redox flow batteries for the project
BELMONT, Calif., Dec. 10, 2015 -- SunEdison, Inc. (NYSE: SUNE), the largest global renewable energy development company, today announced that it has signed a 10-year agreement with Ontario's Independent Electricity System Operator to supply 5 megawatts—20 megawatt-hours—of battery storage to the province. The Ontario IESO works at the heart of Ontario's power system, and is responsible for making sure everyone in the province gets the electricity they need, when they need it. In addition to leveraging the battery's storage capability, the IESO intends to use data from this energy storage project to analyze how storage can be used to smooth the power flow from wind and solar, defer expensive system upgrades, and ultimately shape the future of its grid. This project is SunEdison's first commercial large scale grid-connected energy storage project, and is one of the first commercial applications of flow batteries in Canada.

"By integrating energy storage into their grid, the Ontario IESO gains access to a powerful new tool that has the potential to transform how it operates the power system," said Tim Derrick, SunEdison's general manager of Advanced Solutions. "Batteries can be used to reduce grid congestion, smooth out power flow from solar and wind sources, and may help the IESO defer or avoid expensive upgrades to the grid."
"SunEdison's energy storage project is one of several projects that will support reliability in Ontario by providing much needed quick response capacity and operational flexibility," said Bruce Campbell, Ontario IESO's president and chief executive officer. "We congratulate SunEdison on the success of their proposal and look forward to working with them to implement this project."
SunEdison is working with flow battery technology leader Imergy to deliver the project. Imergy's vanadium redox flow battery technology provides a cost effective and durable way to store energy for hours at a time.
"The Ontario IESO is the real winner in this latest collaboration between SunEdison and Imergy," said Bill Watkins, Imergy's chief executive officer. "By combining SunEdison's renewable energy project development expertise with Imergy's vanadium flow battery technology, Ontario will get a durable and efficient energy storage system.
SunEdison plans to start construction of the project during the first half of 2017, with completion targeted for later that year. Operation and maintenance of the battery systems will be performed by SunEdison Services, which provides global asset management, monitoring and reporting services.
About SunEdison
SunEdison is the largest global renewable energy development company and is transforming the way energy is generated, distributed, and owned around the world. The company develops, finances, installs, owns and operates renewable power plants, delivering predictably priced electricity to its residential, commercial, government and utility customers. SunEdison is one of the world's largest renewable energy asset managers and provides customers with asset management, operations and maintenance, monitoring and reporting services. Corporate headquarters are in the United States with additional offices and technology manufacturing around the world. SunEdison's common stock is listed on the New York Stock Exchange under the symbol "SUNE." To learn more visit www.sunedison.com.
About Imergy Power Systems
Imergy Power Systems is a leader in stationary energy storage solutions using innovative vanadium redox flow battery technology. Its proven Energy Storage Platform (ESP) provides a total solution to reduce energy cost and optimize renewable power generation while improving overall power reliability. Imergy Power Systems is headquartered in Fremont, California, USA, with additional operations in Europe, Asia, and the Americas. The Company's investors include venture capital firms NEA, Technology Partners, and Blue Run. For more information about the company, please visit www.imergy.com or follow us on Twitter.
Featured Product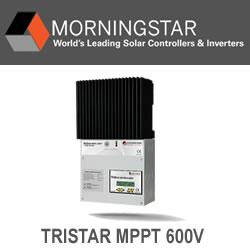 Morningstar's TriStar MPPT 600V charge controller leverages Morningstar's innovative TrakStar™ MPPT technology and our 20+ years of power electronics engineering excellence, to enable the widest input operating voltage range available from a solar array, wind turbine or hydro input. This controller's standard and DB versions are for off-grid applications, and the TR versions were developed to enable retrofitting grid-tied systems with battery backup.