MiaSolé FLEX modules provide the ideal solution for solar power generation on exposed geo-membrane landfill covers.
Santa Clara, CA December 14, 2015 - MiaSolé FLEX modules provide the ideal solution for solar power generation on exposed geo-membrane landfill covers. Landfills are located on large, open areas with no commercial or agriculture use or value—perfect for solar installations. Landfills provide a large power-generation area and fewer shading issues when compared to rooftop solar, and adding solar modules to landfill covers is an excellent complement to landfill gas technology to increase overall energy output.

Closing and sealing landfills with a synthetic TPO geo-membrane cover reduces costs compared to conventional standard subtitle D methods. Miasole flexible solar modules can be bonded directly to the geo-membrane cover, providing power generation capability. Geo-membrane covers and flexible modules are a perfect combination for sloped landfill sites where conventional solar arrays cannot be installed due to slope and live-load limitations.
MiaSolé FLEX modules provide the following benefits when used on landfill covers:
• Easy to install—simply peel-and-stick module onto the membrane used to contain, cover and close the landfill
• Miasole FLEX modules can be factory laminated to the TPO geo-membrane to speed up installation
• Non-penetration installation protects the environment
• Flexible—conforms to the contours of the landfill and accommodates differential settlement
• Resistant to theft and vandalism
• Wind- and seismic-resistant
• Shatter-proof—won't break if struck by debris
MiaSolé FLEX-02 modules are the highest efficiency, flexible, thin-film product on the market today, with >16% cell efficiency. FLEX-02 modules weigh less than 0.7 lb/sq ft compared to 3-5 lbs. /sq ft for crystalline modules and do not require racking—they can be installed directly onto the membrane with peel-and-stick application. The FLEX-02 Series module is IEC 61646 & IEC 61730 and UL 1703 certified.
According to Product Marketing Director Anil Vijayendran, "MiaSolé's FLEX module is an important component in the drive to increase the use of solar on all available surfaces for maximum power generation. The flexible lightweight nature of the MiaSolé FLEX module combined with the fact that customers don't need to install expensive and cumbersome racking makes MiaSolé perfect for including solar power on landfill covers".
About MiaSolé
MiaSolé is a producer of thin-film Copper Indium Gallium Selenide (CIGS) solar cells and panels. Founded in 2004, MiaSolé has evolved from a Silicon Valley start-up to the world leader in thin-film solar panel efficiency. In its Sunnyvale, CA facility, we have demonstrated 16% module efficiency in production and 18% cell efficiency in the lab. In December 2012, MiaSolé became a member of the Hanergy family. MiaSolé joined Hanergy Thin Film Power Group as MiaSolé Hi-Tech. Hanergy provides unparalleled financial, technical, and sales expertise. Since the acquisition, MiaSolé has continued to increase cell performance as well as develop new applications for our technology. Additional information about MiaSolé can be found by visiting www.miasole.com on Facebook at http://www.facebook.com/MiaSoleHiTechCorp.
Featured Product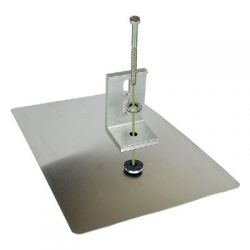 The GreenFasten™ - GF1 system utilizes the patented watertight technology EcoFasten Solar® is known for. The flashing is fit with our EPDM rubber bushing and when used with a compatible EcoFasten Solar compression bracket (milled with countersink), a watertight seal is created, which protects the integrity of the roof. Requiring just a single fastener (lag bolt or self-drilling), GreenFasten provides the fastest install in the industry and will not void roofing manufacturer's warranties. Backed by IAPMO certification, GreenFasten delivers a mounting solution for all new or existing (retrofit) composition shingle roofs, and is the most cost-effective solution available. Like all of the solar roof mount solutions in our line of products, GreenFasten is made in the USA using recycled materials.