Orion Solar Racking teaming up with Samaha Group USA to provide the Gaza Strip with 30 MW of solar energy.
Commerce, CA December 12, 2015 -- Orion Solar Racking (OSR)—a North American manufacturer of PV mounting systems—is proud to team up with Samaha Group USA (SG), a Palestian American based renewable energy company, to provide the Gaza Strip with 30 MW of solar energy. In partnership, OSR will be providing solar equipment to help reduce power outages occurring in the Gaza Strip. The Los Angeles based racking company plans to offer the designing, engineering, supporting, and supplying of racking systems to SG. The solar farm that will provide 30 MW of solar energy is scheduled for building in the next few months.

Samaha Group USA signed an agreement with The Palestinian Energy Authority (PEA) to help make this effort possible. The Strip requires 400 MW of electricity, and is currently experiencing power shortages for up to 12 hours a day. Currently, only 212 megawatts are available to Gazans, and SG plans to increase that by building a solar farm to help the Strip regain electricity.
Further, SG has successfully established a great relationship with the Gaza Electricity Distribution Company along with the Ministry of Energy in Palestine and Jordan. As a result, Dr. Kittana and Dr. Abdeen from the Palestinian Ministry of Energy were guests of the Samaha Group in March 2015 here in Los Angeles.
Moreover, in order to assist the people in Gaza who are suffering from electricity shortages, SG and OSR are looking forward to working with the PEA to help combat Gazas power crisis. While the need for electricity in Gaza is desperate, we believe that the SG project is essential to fostering peace, as well as peace of mind in the Gaza Strip. Without any hesitation, both SG and affiliate partners in the U.S. fully support this project.
About Orion Solar Racking:
As a developer and manufacturer of photovoltaic mounting systems, OSR offers a wide range of first-rate and innovative solar mounting systems. OSR provides roof and ground mounting solutions for residential, agriculture, industrial, government, commercial and utility grade projects. In addition, OSR also manufactures versatile carport systems to accommodate both residential and commercial spaces. Led by Bob Sinai, OSRs mission is to promote renewable energy solutions making solar installations simple. For more information, please visit: http://www.orionsolarracking.com
About Samaha Group:
Based in the U.S., SG focuses on promoting and implementing renewable energy technology throughout the world. As a leader in providing green energy solutions to the global community, SG and its collaborators are committed to providing innovative technologies that meet the demands for green power. Led by Sam Samaha, SG offers cost-effective, clean energy that is consistent and reliable. For more information, please visit: http://www.samahagroupusa.com
Featured Product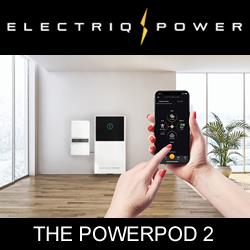 The Electriq PowerPod 2 is a fully-integrated home energy storage, management, and monitoring system powered by LFP batteries. The high-performance, cobalt-free product includes a hybrid solar/battery inverter controlled by intelligent software. The PowerPod 2 provides backup power and can self-consume or export excess power back to the grid.