2016 International Builders Show in Las Vegas, Nevada from January 19-21, 2016
Las Vegas, NV, USA, December 15, 2015 - JuiceBox Energy, a privately-held Silicon Valley company committed to providing safe, reliable, intelligent, and connected solar energy storage, will have an exhibit at the 2016 International Builders Show in Las Vegas, Nevada from January 19-21, 2016, South Hall, Booth #S1134.

The JuiceBox Energy Storage System is a wall mounted, 8.6kWh lithium-ion battery pack with intelligent grid support features, controlled through a proprietary charge control and energy management system. The JuiceBox Energy Storage System Energy is integrated with a full-featured, commercially-available Schneider XW+ 5.5kW inverter/charger and can be deployed in parallel for higher power and energy needs.
At IBS 2016, JuiceBox Energy will share real-world installation data that quantify the homeowner benefits of the JuiceBox Energy Storage System, which augments new and existing solar installations. The system is ideal for builders and contractors looking to position their new homes with buyers who have interest in premium sustainable energy solutions.
"Advanced energy storage is at the epicenter of renewable energy in 2016, and we are excited to showcase the JuiceBox Energy Storage System for residential solar installations at the International Builders Show" said Neil Maguire, CEO of JuiceBox Energy. "Solar is expanding rapidly across the country and homebuilders and remodelers now have a safe, reliable and powerful energy storage system available for easy integration into the design and construction of their clients homes.
Home builders, contractors, and those interested in these "green energy" solutions are encouraged to contact the JuiceBox Energy team to schedule a private demonstration of the companys lithium-ion based Energy Storage System. Please contact sales@juiceboxsolar.com to book a meeting.
With a residential JuiceBox installation, homeowners will benefit from:
* Back-up power in event of grid outage
* Peak Shifting - shift excess solar production from daylight hours to night time
* Out-of-the-box integration to the Schneider XW+ inverter to eliminate in field programming
* Real-time monitoring and control through a cellular modem and web interface
The JuiceBox Energy Storage Systems battery management and system controllers are designed for safe, reliable, long lasting control of the lithium-ion cells. It also has redundant protection mechanisms to prevent over voltage, over current, under voltage and over temperature conditions. The system is designed to support grid-tied, grid isolated in the event of grid failure, and off-grid configurations. Each configuration delivers years of dedicated peak shifting, back-up power, energy efficiency and enables participation in emerging transactive energy exchanges. A cellular gateway to a secure cloud-based repository enables remote monitoring, updates and control. The JuiceBox Energy Storage System is housed in an indoor/outdoor UL-rated enclosure.
Featured Product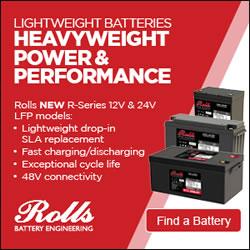 Rolls Battery has just introduced a new range of LFP lithium models. Available in 12V & 24V 50AH-300AH capacity options, the R-Series LFP lineup a lightweight, compact case design in four popular BCI case sizes (G24, G31, G49 & 8D), a customized BMS with added protections for safe & stable operation, improved cycle life (>6000 cycles @ 80% DOD) and up to 4x Series, 4x Parallel connectivity for 48V system configuration.