Renewable Energy Industry Groups to Meet with European Commission
Renewable energy plants in the Czech Republic are at risk of going bankrupt, as the Energy Regulatory Office has unlawfully refused to issue an obligatory pricing decision continuing the support for renewable energy sources in 2016. All wind, hydroelectric, solar, biomass, and biogas plants that were grid-connected between 2006 and 2012 are affected. If a solution is not found by early January, there is a very real chance that the Czech Republic will be hit with a spate of lawsuits and international arbitration claims.

According to valid legislation, renewable energy producers are entitled to support in the form of feed-in tariffs or green bonuses throughout the entire expected lifetime of installations. Leading renewable energy industry groups will therefore be meeting with representatives from DG Energy in Brussels on Tuesday, 15 December 2015, in order to lobby for help in stabilizing the Czech renewables sector. Representatives of both organizations also met with representatives of DG Competition on 26 November, when they were assured that no formal proceedings against the support scheme for renewable energy sources in the Czech Republic had been initiated.
"Independent legal analyses clearly demonstrate that by not granting aid for renewable energy, the Energy Regulatory Office has overstepped legal boundaries. The Energy Regulatory Office's arbitrary interpretation of the law must come to a quick stop. The European Commission should promptly begin looking into the situation in the Czech Republic, where EU processes are being intentionally abused to damage renewable energy projects," said Veronica Hamáčková, director of the Czech Photovoltaic Industry Association, about the current situation.
"The current obstructions that the Energy Regulatory Office has created by refusing to issue the obligatory pricing decision continuing support for renewable energy source will cause irreparable damage to the Czech Republic's image as a state with a secure investment climate and the rule of law. By not continuing the legally binding support, the cracks that formed in investor trust in the Czech state after retroactive solar levies were adopted in recent years will only grow larger. The European Commission must realize that the current situation puts meeting EU renewable targets at risk and erodes trust in the European Single Market," said Marek Lang of the Alliance for Energy Self-Sufficiency on the key impacts of the situation in the Czech Republic.
Context of the problem:
The Energy Regulatory Office has refused to issue the obligatory pricing decision continuing support for renewable energy plants, claiming that the support scheme had not yet undergone the European Commission's notification procedure. This is, however, an invalid argument. Last year, the European Commission assessed the new Czech Renewables Support Act of 2012 and found that the support scheme established by it contributes to meeting EU energy targets without inappropriately violating the competition rules of the Single Market.
The Renewables Support Act replaces earlier legislation regulating renewable energy support (Act No. 180/2005 Coll.), which in accordance with European law introduced support for renewable energy in the Czech Republic in the form of feed-in tariffs and green bonuses.
The impacts of the impending situation:
In total, about 25,000 entities are in jeopardy, most of which—up to 22,000—produce solar energy. The owners of solar installations may go bankrupt if aid is not granted. And not just companies will be affected. So too will the many homeowners who have installed solar panels on their roofs to boost their energy self-sufficiency and lower energy bills.
Considering the size of the renewable sector, more than just solar installation owners will be affected. Green energy projects have been financed by banks; discounting support will also impact loans totaling more than 5.6 billion EUR (150 billion Czech crowns). Therefore, this situation might result not just in an energy crisis, but in a national economic crisis as well.
Many key industries may also be destabilized, and some towns and cities may experience blackouts (such as Jindřichův Hradec, Kutná Hora, etc.), which would also affect hospitals, schools, and other critical infrastructure. Failing to continue support will also put the Czech Republic at risk of not meeting its EU mandated renewable energy target of 13% by 2020.
A crisis in the renewables sector might also result in higher unemployment. Today more than 15,000 people work in this sector, along with several thousand others who work in related fields.
Featured Product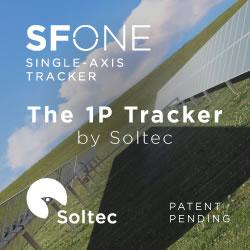 Under the slogan "engineered for greatness", the SF8 tracker aims to revolutionize the photovoltaic market with its new minimum 2x60 configuration and 4 to 6-strings. This tracker is elegantly designed while it reinforces its structure to perform in any terrain. In addition, the SF8 tracker increases the rigidity of its structure by 22% more than the previous generation of Soltec trackers, the SF7. The SF8 is specially designed for larger 72 and 78 cell modules, an increasing market trend.