The combined usage of solar energy, battery storage systems and the E3 tri-generation unit is the best solution for sustainable microgrids. Premier and Live Demonstration in Los Angeles: an energy solution - driven by German engineering know-how and American innovation spirit.
LOS ANGELES, California - ENTRADE yesterday unveiled E3 tri-generation - the world's smallest combined cooling, heat and power (CCHP) unit fueled by regional available biomass waste. The one-of-a-kind clean technology is a masterpiece of German engineering know-how and American innovation spirit. It is the missing link to establish renewable and weather-independent microgrids.

During the unveiling event in Downtown Los Angeles ENTRADE showed how an energy-intensive building like the LA Kretz Innovation Center can be powered with clean energy: The combined usage of solar energy, battery storage systems and the E3 tri-generation unit is the best solution for sustainable microgrids.
ENTRADE's unique technology is based on a high-temperature, carbon-neutral and highly efficient gasification process. It uses solid biomass waste to deliver cheap and clean energy continuously.
One E3 is a turnkey solution and so small that it's easily transportable on a pickup truck. The on-site power plant generates enough electricity (30 kilowatts), heating (up to 60 kilowatts) and/or cooling (up to 30 kilowatts) for as much as 22 American single family homes, a small production facility or even a village in developing countries. Far more than 100 types of solid waste are certified already - nut shells and further regional biomass, fuels the E3 unit on the LA Kretz Innovation Campus.
"Driven by our company's vision to one day solve the world's waste and energy problems, our engineering team in Germany has reinvented the biomass gasification process in a truly sustainable way", Julien Uhlig, ENTRADE's CEO, emphasized in his keynote speech. "Now, here it is: The world's smallest tri-generation power plant fueled by waste, that will have a huge impact on the everyday-life of millions of people without any access to clean energy. The strong demand out of the world market is a hint to be sure that it's an idea whose time has come. The E3 is ready to go into mass production."
E3 tri-generation Key Benefits
• Profitability: E3 provides low-cost energy production and short-time ROI
• Reliability: E3 provides more than 8,000 full load hours per year
• Usability: E3 provides weather-independent base load power
• Regionality: E3 uses regional available biomass waste as a fuel
• Maintainability: E3 provides turn-key units with remote management from Graz (Austria)
• Sustainability: E3 lowers your carbon footprint and provides a greener image
Styling and Specifications
The E3 is delivered as a turn-key power unit in a container that can be installed in less than one day. One container generates 25 kilowatts (one E3 unit) or 50 kilowatts (two E3 units) electricity that is enough to power up to 22 resp. 45 single family homes in the US or 400 resp. 800 people in developing countries. The E3 comes with complete 24/7 remote-management from the ENTRADE Operations Center at the Technical University in Graz.
Pricing and Availability
One E3 tri-generation unit retails currently for less than 200,000 US-Dollar. ENTRADE's mass production in Germany will start in January 2016. The cleantech company plans to produce up to 45 units per month with a target of 600 units in 2016. In Graz (Austria) the verification of usable waste products and E3 fuel mixtures continuous dynamically.
Featured Product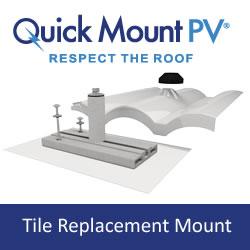 The Tile Replacement Mount provides a fast and easy way to install solar on tile roofs while protecting against water intrusion. Simply remove the tile and replace it with the Tile Replacement Mount. Works with all standard curved and flat tile roofs, and all standard rail-based racking systems. Flashed at both the deck and top levels, the mount is fully engineered to meet code requirements and industry best practices. The Tile Replacement Mount features Quick Mount PV's patented Elevated Water Seal technology for optimal waterproofing. Get a free sample and see for yourself!