Global renewable energy consultancy, Natural Power, has analysed data and predicted UK wind power output through to 2020.
Natural Power predicts that every year from now until 2020, the combined installed capacity for onshore and offshore wind in the UK will demonstrate CAGR of +11% year on year - thats 24GW, or almost 66m MWh of electricity generated which is equivalent to powering 16m homes.

December 2015 sees Natural Power celebrate 'coming of age with 20 years in business. This means that the business shares its birth year with the iconic Scottish film Braveheart (yes really), Amazon, Windows 95, Blue Moon Ale, the Starbucks Frappucino and none other than Kendal Jenner, the US socialite. Success comes in many different forms!
Ted Leeming, Managing Director at Natural Power, said: "We have been at the forefront of many ground-breaking developments and continue to support our clients in the international delivery of their projects. Throughout the past 20 years, we have seen our industry evolve to become an integral part of the energy and environmental mix, and we are very proud to have been a very small part of that. We will continue to work towards our vision to be the global leader in client facing, high value, integrated renewable energy and infrastructure services, and very much look forward to what the next 20 years will bring!"
Our 20 years in numbers:
• We have been involved with almost 1,500 renewable energy projects globally
• We employ 320 + renewable energy experts across 13 global offices and have experience of working in 32 countries
• We have been involved at some point with 50% of all onshore and offshore wind projects in the UK, the impact of which can be seen below:
Featured Product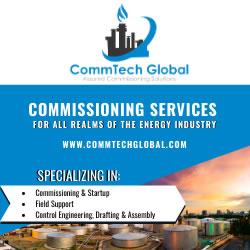 CommTech Global Solutions, LLC, provides professional and reliable commissioning services to customers in all realms of the energy industry. We blend our skills in engineering and technology with innovative business models, offering a complete range of services to assist you for a successful and in compliance operational startup. Consolidation of all our service domains gives our clients a comprehensive set of expertise and far-reaching experience on each project.