A new resource for training providers
The solar industry is adding jobs at a rate nearly 20 times faster than the

overall economy.*
Solar offers an exciting range of opportunities for new and incumbent workers, and now there is an updated tool to help you share with students and other stakeholders more about this rapidly advancing and changing industry.
IREC's Solar Career Map features the faces and information behind the expanding universe of solar-energy occupations. It describes diverse jobs across the industry, charting possible progression between them, and identifies the sorts of experience and credentials necessary to do them well.
This complimentary IREC webinar on Thursday, January 14, 2016, 2-3pET introduces the Map to those who deliver clean energy training at community colleges and other settings, or are involved in workforce development.
Designed to demonstrate the breadth of our industry and its critical occupations, as well as the necessity for integrated solar training in a variety of related fields, the Solar Career Map emerged from a simple vision: High-quality work and high-quality jobs are the key to building a robust, high-quality solar industry. After attending, you will understand how to:
• access the Map's interactive features, including 40 jobs in 4 sectors how they are related;
• apply ideas about how you can leverage the Map to make your work more effective; and
• find resources created by IREC and the Solar Instructor Training Network for community colleges and other solar training providers.
The IREC Team will answer your questions submitted in advance or during the webinar as time allows.
*2014 Solar Jobs Census, The Solar Foundation
About IREC
IREC is a nationally recognized thought leader, stakeholder coordinator, expert resource and facilitator of regulatory reform. Our work expands consumer access to clean energy; generates information and objective analysis grounded in best practices and standards; and leads national efforts to build a quality- trained clean energy workforce, including a unique credentialing program for training programs and instructors. IREC's programs and policies benefit consumers, policymakers, utilities and the clean energy industry.
IREC is an independent, not-for-profit 501(c)(3) organization that relies on the generosity of donors, sponsors and program funder support.
Featured Product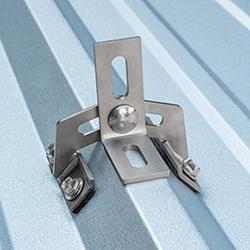 Error-Proof Compression: The QB2 doesn't leave any room for user error when it comes to Microflashing® compression. Once the Dual Drive Shoulder Screw is secured, the Microflashing® is compressed. Only 3 Components: The QB2 is comprised of Microflashing®, an L-foot and a Dual Drive Shoulder Screw. No more Nuts needed to tighten and secure the L-foot! Not only does this simplify the installation process, it also cuts down the installation time.