Investment in first of its kind wind turbine leasing program raises record amount of project capital towards development of over 1,000 distributed wind projects
TORONTO & BROOKLYN, N.Y.--(BUSINESS WIRE)--United Wind, a premiere provider of distributed wind energy solutions, and Forum Equity Partners, a leading alternative investment management and principal investment firm today announced a deal that provides $200M in project equity capital for distributed wind projects throughout the United States. The financing will significantly expand United Winds unique and market leading WindLease program, which enables both residential and commercial property owners to lease distributed-scale wind turbines (≤100kW in rated capacity). United Winds popular program allows qualified customers to reduce energy costs by harvesting on-site wind energy through a fixed rate, 20-year maintenance-free lease without any initial out-of-pocket costs required from the customer.

"United Wind brings a unique and innovative solution to wind power delivery by offering a first-of-its-kind wind energy-leasing program for end-users," said Richard Abboud, Forums Founder & CEO. "This kind of forward thinking falls directly in line with Forums support of innovative and entrepreneurial renewable energy companies serving high-growth markets. We are committed to building highly effective and collaborative partnerships that can significantly benefit communities and investors alike and I am confident this deal will accomplish those goals."
"Distributed wind is often the optimal renewable energy choice for rural property owners seeking to lower their energy costs," said Russell Tencer, Co-Founder and CEO of United Wind. "With this pivotal investment by the visionary team at Forum Equity Partners, United Wind is now well positioned to provide low-cost wind energy through its WindLease offering to thousands of customers across the country."
According to the Distributed Wind Energy Association (DWEA), the deal is the largest ever for a distributed wind energy company; "The success of United Winds leasing program is an indicator of the massive potential of distributed wind," said Jennifer Jenkins, DWEAs Executive Director. "With this new partnership, distributed wind energy begins its transition from niche concept to mainstream solution."
DWEA estimates that by 2030 there will be 23.7 million homes and buildings suitable for distributed wind, representing a potential for 1,100 GW of generating capacity. DWEA also estimates that other related market segments, such as community wind, wind gardens, and virtual metered systems, could boost the potential for non-windfarm wind-generated energy to 1,400 GW. The energy production potential for the 1,100 GW in 2030 is estimated at 2,900 TWh - which is 70% of the net electricity generation in the U.S. in 2014.
United Wind launched the WindLease program in late 2013 in an effort to provide financing to the historically underserved distributed wind market. This partnership will provide financing for WindLease projects throughout the US Northeast and Midwest with customers including homeowners, farms, small businesses, agricultural operations, factories and other customers with on-site power generation needs and suitable land and wind resources.
About Forum Equity Partners
Forum Equity Partners is a privately owned alternative investment management and development firm with a focus on assets in renewable energy, infrastructure and real estate. Headquartered in Toronto, Ontario with offices in the U.S., and $900 million in assets under management Forum is committed to achieving aggressive growth through its investment in rapidly emerging new markets and industries with innovative, new investment approaches and programs.
For more information, please visit: http://www.forumequitypartners.com
About United Wind
United Wind is a leading provider of low-cost distributed wind energy through its WindLease program. Founded on the belief that wind energy must be affordable to compete with conventional, less sustainable energy sources, United Wind provides customers with low-cost wind energy options that make sense for today and the future. For more information visit: http://www.unitedwind.com.
Featured Product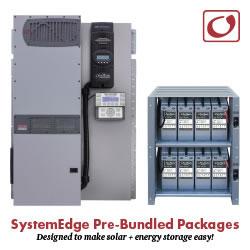 Each pre-bundled package is designed to make solar plus energy storage easy. By combining OutBack's most popular FLEXpower pre-wired systems with matched OutBack energy storage, SystemEdge takes the guesswork out of installing solar plus storage. Every SystemEdge package includes a FLEXpower factory pre-wired system, application-specific EnergyCell batteries and racking, FLEXware ICS Plus combiner and all the necessary connection hardware.