Development Effort to Continue Under the Supervision of Nobel Laureate, Dr. Alan Heeger
SANTA CLARITA, CA--(Marketwired - January 12, 2016) - BioSolar, Inc. (OTCQB: BSRC), a developer of breakthrough energy storage technology and materials, today announced that the company has signed an agreement to extend the funding of a sponsored research program at the University of California, Santa Barbara ("UCSB") to support the next phase of its super battery technology development.

BioSolar's research program with UCSB first started in July 2014 with a focus on low cost and high performance materials and structures for supercapacitors and batteries. The lead inventors of the technology are UCSB professor Dr. Alan Heeger, the recipient of a Nobel Prize in 2000 for the discovery and development of conductive polymers, and Dr. David Vonlanthen, a project scientist and expert in energy storage at UCSB.
Based on the technical breakthroughs achieved in 2014, BioSolar applied its technology for enabling high capacity and long-life lithium ion batteries, which have very large markets across a broad spectrum of applications. The Company believes its breakthrough technology can double the storage capacity, lower the cost and extend the life of lithium-ion batteries -- all features that are highly sought after in industries spanning electric vehicles, smartphones, solar, and more. This extension funds the research program for another 12 months until June 2017.
The Company recently announced that it successfully completed the first phase of its super battery technology development, with test results indicating that lithium-ion batteries incorporating BioSolar's technology can achieve significantly higher capacity with costs below $100/kWh, less than half of today's lowest cost lithium-ion batteries. The next phase of development requires the design and building of prototype electrodes and battery cells at sufficient quantity that will allow extensive evaluation of the technology's performance in various Li-ion battery configurations.
"We are pleased to extend our agreement to fund the sponsored research program at UCSB to further the development of our super battery technology," said Dr. David Lee, CEO of BioSolar. "As one of the top research universities in the world, UCSB is considered to be a global leader in bioengineering, chemical and computational engineering, materials science, nanotechnology and physics. We are confident that this team of scientific professionals will continue to advance the technology closer to our goal of achieving a $100/kilowatt-hour cost milestone for energy storage."
UCSB boasts six Nobel Laureates (five in sciences and engineering) and one winner of the prestigious Millennium Technology Prize. The 2014 Academic Ranking of World Universities ranked UCSB Engineering/Technology and Computer Science as #7 in the world.
About BioSolar, Inc.
BioSolar is developing a breakthrough technology to double the storage capacity, lower the cost and extend the life of lithium-ion batteries. A battery contains two major parts, a cathode and an anode, that function together as the positive and negative sides. Today's state-of-the-art lithium-ion battery is limited by the storage capacity of its cathode, while the anode can store much more. Inspired by nature, we are developing a novel cathode based on inexpensive conductive polymers and organic materials that can fully utilize the storage capacity of conventional anodes. By integrating our high capacity, high power and low-cost cathode with conventional anodes, battery manufacturers can create a super lithium-ion battery that can double the range of a Tesla, power an iPhone for 2 days straight, or store daytime solar energy for nighttime use. Founded with the vision of developing breakthrough energy technologies, BioSolar's previous successes include the world's first UL approved bio-based back sheet for use in solar panels.
To learn more about BioSolar, please visit our website at http://www.biosolar.com.
Safe Harbor Statement
Matters discussed in this press release contain forward-looking statements within the meaning of the Private Securities Litigation Reform Act of 1995. When used in this press release, the words "anticipate," "believe," "estimate," "may," "intend," "expect" and similar expressions identify such forward-looking statements. Actual results, performance or achievements could differ materially from those contemplated, expressed or implied by the forward-looking statements contained herein. These forward-looking statements are based largely on the expectations of the Company and are subject to a number of risks and uncertainties. These include, but are not limited to, risks and uncertainties associated with: the impact of economic, competitive and other factors affecting the Company and its operations, markets, product, and distributor performance, the impact on the national and local economies resulting from terrorist actions, and U.S. actions subsequently; and other factors detailed in reports filed by the Company.
CONTACT INFORMATION
Investor Relations Contact:
Tom Becker
BioSolar, Inc.
ir@biosolar.com
(877) 904-3733
For Media Inquiries:
Eric Fischgrund
FischTank Marketing and PR
eric@fischtankpr.com
Featured Product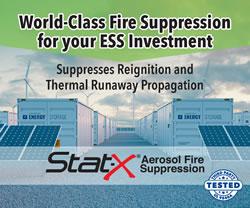 Stat-X® condensed aerosol fire suppression is a solution for energy storage systems (ESS) and battery energy storage systems (BESS) applications. Our Stat-X condensed aerosol fire extinguishing product was tested for efficacy in suppressing li-ion battery fires. It was found that the product successfully extinguished single and double cell battery fires. This testing was conducted in parallel with a large battery fire testing program on behalf of a large energy storage company.