Leading renewable energy consultancy, Natural Power, is to provide a keynote speaker for the forthcoming operational wind farm event being hosted by Scottish Renewables on 20th January 2016 in Glasgow.
Natural Power is the headline sponsor and keynote speaker at the forthcoming Scottish Renewables event 'Operational wind farms: increasing lifetime revenue and value' which takes place on 20th January 2016 at the University of Strathclyde Technology & Innovation Centre in Glasgow.

This event will focus on how to maximise the value of an onshore wind site through increasing the efficiency and effectiveness of a scheme, generating additional revenues on site and designing a high quality operations and maintenance programme.
Following the welcome address from Malcolm Garrity, Director at Scottish Renewables; Neil Douglas, Natural Power's Director of Asset Management will open the morning session with a presentation on the real value of 'total asset management'.
Neil said: "The wind industry is adopting an increasingly pro-active approach to operational wind farm management that takes all its complexities on board and is able to utilise the information we have at our disposal, using it in a smart and more efficient manner. In doing so, the demands of more sophisticated owners and the need to really drive optimisation can be met.
"We must use our increased knowledge and understanding, together with improvements in technology and innovation, to maximise the future value of our wind farm assets by thinking smart. By demanding a higher level of information, we can increases yields across a portfolio and reduce the levelised cost of energy (LCoE). Furthermore, by improving our ability to interpret this data and by having the opportunity to intervene at the right time, we are able to deliver the knowledge-based, predictive management of wind farms that ensures that our clients' assets are optimised for maximum efficiency and output; thus maximising lifetime revenue and value."
This CPD-accredited event will allow professionals who own or operate a wind farm to hear about what they can do to increase the productivity of their current sites, while those planning and developing a site can hear from the panel on their views on how best to set up and develop a new scheme.
The day will also allow those in the O&M business and wider onshore wind sector to hear from others involved in the industry through formal presentations and networking opportunities. Other speakers at the event include wind lidar providers ZephIR and drive-train reliability experts Romax.
To find out more information, to view the full event programme, and to book your tickets, please visit https://www.scottishrenewables.com/events/operational-wind-farms/
Featured Product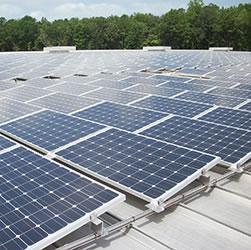 The Power Rail™ Commercial Mounting System is designed with the professional PV solar installer in mind. Both the XD/UD and LD/MD rails feature single tool assembly with the revolutionary patented RAD™ Lock-in-Place bolt for fast and secure module clamping. The high strength marine-grade aluminum rails include an integral wiring channel for securing cables and providing a professional finish.