Latest Solar Installation Adds To The Paso Robles Winery's Quest For Sustainability
Castoro Cellars has completed an installation of a massive new solar project that will allow the winery to run 100% on solar power. The 625-kilowatt installation, which covers nearly three acres, will have an annual production of over one million kilowatt hours and eliminate an estimated $20,000 per month electricity bill. This marks the fifth solar installation in the last ten years by Castoro and stays true to their dedication to renewable energy and a sustainable business model.

The solar project began construction in October in Castoros organically grown Stones Throw Vineyard, adjacent to the winery production facility in east Paso Robles, in the newly created Estrella District AVA. The system was designed to power the entire winery with solar generated electricity, a longtime goal of owners Niels and Bimmer Udsen. They expect the system to pay for itself by the fifth year, and will save nearly $240,000 per year for at least the next 25 years.
"Bimmer and I have always felt the sun is a gift that we should utilize, " says Niels Udsen. "When the solar industry was starting they needed supporters to build the industry and we were eager to help. The paybacks were longer, but that really wasn't the motivation, clean power from sun was and still is the reason for this project. Paso Robles is the perfect place to utilize solar."
Castoro Cellars was an early adopter of solar energy, investing in their first solar project in 2006 at their tasting room on Hwy 46 West. The energy produced from the rooftop array powers about 70% of the tasting room and the summer concert series. In 2012, they added a second solar installation in their Dos Viñas Vineyard in San Miguel, a 61.4-kilowatt array, which powers agriculture wells and an on-site home. With solar already installed at the tasting room and vineyard, the new winery array brings solar energy across the entire company operations. Ryan Park, Director of Business Development at REC Solar, noted "REC Solar applauds the Udsens on their dedication to utilizing the sun to complete their sustainable mission." All of the solar projects were planned and installed by REC Solar, based on the Central Coast of California.
Sustainability is at the core of Castoro Cellars vision. The Udsens and their dedicated team strive to work with the earth, using gentle practices in all operations. They are the largest grower of organic grapes in Paso Robles with over 400 acres certified organic by California Certified Organic Farmers (CCOF). The winery is a certified organic facility and all additional vineyards they own and source from - over 1,000 acres - are SIP certified by the Central Coast Vineyard Team.
The energy generated from the new solar installation allows Castoro to minimize their impact on the environment. Luke Udsen, Director of California Sales and Marketing and Social Media, states, "Solar is something we believe to be necessary for a sustainable future. Solar energy is clean, requires no fossil fuels, creates no carbon emissions, and requires very little maintenance or upkeep. This system will allow us to grow roughly a thousand acres of grapes with the sun and then turn it into wine using the sun as the power source!"
As consumers become more interested about farming and winery practices, Castoro feels their customers are happy to know they are good stewards of the earth. This year they will again host the Earth Day Food and Wine Festival on April 23, their third year hosting the event that celebrates the passion and people behind the sustainable food movement.
Environmental Benefits: The clean electricity generated over 25 years by the new 625 kW solar electric system at CastoroCellars is equivalent to the following:
· CO2 emission from 1.5 million gallons of gasoline consumed
· Carbon sequestered by over 350 thousand tree seedlings grown for 10 years
· Annual greenhouse gas emissions from over 28 hundred passenger vehicles
About Castoro Cellars
Niels and Bimmer Udsen founded Castoro Cellars in 1983, and today run it with their sons Max and Luke. Located on Highway 46 West and Bethel Road in the Templeton Gap AVA of Paso Robles, Castoro Cellars specializes in sustainably farmed wines, including Rhône and Italian varietals. The Udsen family has a strong passion for live music and the arts, lessening their impact on the earth and giving back to the community. www.castorocellars.com
About REC Solar
REC Solar is a renewable energy provider focused exclusively on businesses and backed by Duke Energy, one of the largest energy companies in the world. Incorporating experience from more than 500 successful commercial solar installations over 17 years, REC Solar tailors financing and technology solutions to immediately deliver bottom line savings. REC Solar makes commercial solar simple, working seamlessly with customer operations to deliver clean energy for decades. www.recsolar.com
Featured Product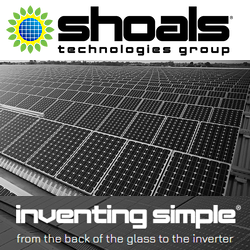 Inventing Simple® isn't just a slogan to us, it's a way of life. Using simple plug-and-play ideology, we revolutionized solar installations in 2003 with our Interconnect System™. Our harnessing system is now the gold standard EPC's use around the world. By using simple ideas, we are making solar energy a more affordable and clean power source for future generations.