UniEnergy Technologies (UET), the leading flow battery solution provider, today announced commercial availability of the ReFlex™ energy storage system.
MUKILTEO, Wash., Jan. 25, 2016 /PRNewswire-USNewswire/ -- UniEnergy Technologies (UET), the leading flow battery solution provider, today announced commercial availability of the ReFlex™ energy storage system. The ReFlex provides energy savings, power stability, and resiliency for commercial & industrial, microgrid, and utility customers. It is uniquely suited for buildings, campuses, distribution circuits, and other applications. Each ReFlex is rated at 100kWAC, with up to a 5 hour duration.

The ReFlex is fully enclosed in one standard twenty foot (20') container. This includes AC conversion, supporting systems, and controls. No external inverter, cooling, or control is required. Each ReFlex has a footprint of only 160 square feet, and can be stacked. This provides a compact, powerful advanced energy tool to manage customers' energy needs.
Like UET's larger-scale Uni.System™ (500kWAC/2MWhAC), the ReFlex utilizes UET's next generation advanced vanadium technology. That technology has a proven safety record, with no thermal runaway risk and a flammability rating of "0". Each system has a 20 year life with no capacity degradation validated by third party testing, and is environmentally safe and recyclable.
As well as engineering and manufacturing the ReFlex, UET will install, commission, and provide on-site training to customers. UET's field team is experienced and seasoned, with multiple megawatts of systems deployed and commissioned to date. UET provides comprehensive maintenance support and 24/7 operating data monitoring.
The ReFlex controller includes a peak shaving application which autonomously enables customer savings through demand charge reduction. Frequency and voltage regulation can also be performed simultaneously. Regular operational reporting to customers is standard. Advanced analysis is available by customer request.
UET's Chief Operating Officer Rick Winter commented: "We've learnt a tremendous amount from our utility customers and MW-scale installations, which we've translated into truly robust plug & play products with remarkable operational flexibility. This allows our customers to address demanding duty cycles, both today and in the future, as they adapt to the rapidly changing power environment and tariff structures. We are particularly excited to bring our robust MW-class technology to the kW scale to provide solutions to industrial & commercial, microgrid, and utility customers at that scale."
Globally, only UET has megawatt-scale fully containerized flow battery systems deployed and operating in the field. UET now has almost 10MW/40MWh of energy storage systems deployed or ordered by customers.
Planned deployments by UET in 2016 include projects in California, Italy, New York, Tennessee, and Washington State. In 2015, UET deployed the largest containerized flow battery now in operation in the world, as verified by the US DOE Office of Electricity Global Energy Storage Database.
About UET
Founded in 2012, UET provides turn-key, megawatt-scale energy storage solutions that simultaneously deliver both power and energy for commercial & industrial, microgrid, and utility applications. Those applications can be combined or "stacked" to provide maximum capacity and value to the customer. UET's solutions are differentiated by (i) an electrolyte with double the energy density and capacity, much broader operating temperature range than conventional vanadium, and 100% recyclability, (ii) a plug & play ISO containerized design with a compact footprint, (iii) proven, high-performance large-scale stacks with 15 years of development, 9 years of field deployment, and hundreds deployed, and (iv) state of the art controls with DNP3 protocols and power electronics supporting IEEE1547, the Standard for Interconnecting Distributed Resources with Electric Power Systems. UET's water-based technology is operationally flexible, intrinsically safe, 20 year lifetime, reliable, and economically compelling. The ReFlex™ and Uni.System™ products provide demand charge reduction, peak shaving, renewable integration, ramping, frequency and voltage regulation, microgrid support, and other applications.
Featured Product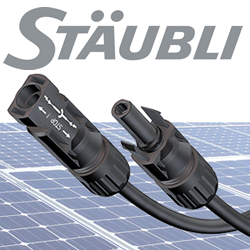 ​Stäubli Electrical Connectors are used on more than 300 GW, over 50% of the PV capacity worldwide. The MC4 family of UL and TUV listed products include connectors, in-line fuses, branch connectors, cable assembly and more.