JuiceBox Energy partners with Arise Solar to provide energy peak shifting and backup power for residential solar installations
JuiceBox Energy, a privately-held Silicon Valley company committed to providing safe, reliable, intelligent, and connected energy storage, announces their partnership with Arise Solar to bring renewable energy storage the Central Valley. Arise Solar is one of the foremost leaders in the California solar industry, offering innovative, affordable, and aesthetically appealing solar energy solutions to residential and commercial customers.

Arise Solar completed its first installation of the JuiceBox Energy 8.6 kWh energy storage solution in December, at the Fresno home of Arise Solar CEO, Glenn Siemens. The AC-coupled system was integrated with an existing 4.6kW grid-tied solar installation, and is in Pacific Gas & Electric territory.
"There are three reasons why I chose to add the JuiceBox Energy Storage solution to my existing solar installation," said Glenn Siemens. "The first was to understand how to install this new technology correctly. Secondly, to make sure the local America Housing Jurisdiction (AHJ) and utility companies would approve it, and lastly, to have a really cool solar energy storage system and battery backup in the event of grid failure."
With this residential JuiceBox installation, the owner will benefit from:
Real-time monitoring and control through a cellular modem and web interface
Back-up power in event of grid outage
Out-of-the-box integration to the Schneider XW+ inverter to eliminate field service calls
Peak Shifting - shift excess solar production from daylight hours to night time and minimize or eliminate grid reliance
The JuiceBox Energy Storage is an intelligent, 8.6kWh lithium-ion battery pack with proprietary charge control and energy management system coupled to a 5.5kW Schneider XW+ inverter. The system is deployed throughout California, and in Hawaii, New York, Nevada and a growing number of states. There are over 100 Certified Installers nationwide to support the roll-out.
The JuiceBox Energy Storage System's battery management and system controllers are designed for safe, reliable, long lasting control of the lithium-ion cells. It has multiple protection mechanisms to prevent over voltage, over current, under voltage, and over temperature conditions. The system is designed to support grid-tied, grid isolated in the event of grid failure, and off-grid configurations. Each configuration delivers more than 10 years or 4000 cycles of dedicated peak shifting, back-up power, energy efficiency, as well as enables participation in emerging transactive energy exchanges. A cellular gateway linked to a secure cloud-based repository enables remote monitoring, updates, and control. The JuiceBox Energy Storage System is housed in an indoor/outdoor UL-rated enclosure.
Central Valley customers interested in the JuiceBox Energy Storage solution should contact Arise Solar. Solar installers interested in JuiceBox Energy representation and installation certification should contact JuiceBox Energy.
About JuiceBox Energy, Inc.
Founded in 2013, JuiceBox Energy is committed to providing safe, reliable, intelligent, and connected solar energy storage for renewable energy. JuiceBox Energy Storage solutions are designed to support consumer self-consumption and enable a resilient, renewable energy grid in order to power a cleaner, sustainable planet. For more information, visit http://www.juiceboxsolar.com and follow us on Twitter: @juiceboxsolar.
About Arise Solar
Arise Solar was established in 2007, by CEO and Owner Glenn Siemens. Arise Solar has grown from 4 employees to over 50 in the past few years. Locally owned and operated, Arise Solar aims to provide peace of mind for customers by offering quality service with quality parts.
Featured Product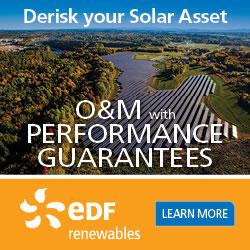 EDF Renewables offers the same innovative solutions that maximize the performance of our own 5.2 GW of installed projects. Because we're not an equipment manufacturer, our recommendations are transparent and data-driven. We cover the entire project lifecycle: from pre-commissioning support, through warranty and post warranty operation, to late stage and decommissioning.