London and New York - January 28, 2016 - OpenLink, the global leader in trading and risk management solutions to the energy, commodities, corporate and financial services industries, announced today that it has been ranked as the top technology vendor for Commodities Trading Systems, and top in Commodities Pricing and Analytics, in the 2015 Risk Technology Rankings.

This is the fourth consecutive year OpenLink has led the rankings by Risk Magazine - which are compiled through a poll of derivatives and risk management technology users. Vendor functionality, usability, performance, return on investment and reliability are all considered to determine the rankings. OpenLink's leadership status follows a strong period of growth for the firm - signing a record over 30 new energy and commodity clients last year.
Ken Knowles, Executive Vice President, Product Management at OpenLink, said: "Ongoing price turmoil across commodity markets means best practice for risk management has never been more important to commodity and energy trading firms. Further recognition in the Risk league table reinforces the strength of our solutions - which provide front-to-back, real-time risk reporting, unified views of positions, risk exposures and P&L. Acknowledgement of our pricing and analytics capabilities is also welcome as it validates our continuing investment in our solutions and demonstrates the unparalleled value these bring to our customers."
The leadership position follows continued industry recognition for OpenLink, who ranked as a 'leader' within Gartner's Magic Quadrant for Trading Platforms in 2015. OpenLink also took top spot for 'Energy Trading Risk Management' in Energy Risk's rankings, and now has over 600 clients worldwide and solutions utilized by more than 37,000 users.
-ENDS-
About OpenLink
Founded in 1992, OpenLink (www.openlink.com) is the global leader in Transaction Lifecycle Management (TLM) software for the commodity, energy and financial services industries. OpenLink's products address portfolio management, trading, risk management, and operations processing for both financial and physical assets.
Owned by leading private equity investment firm Hellman & Friedman, OpenLink is a global software and services business that has grown both organically and through strategic acquisitions, to achieve revenues in excess of $300 million. The company serves over 600 clients, including 12 of the world's largest commodity and energy companies, 9 of the largest financial institutions, and 13 of the largest central banks. OpenLink has 1,200 employees in 14 global offices on five continents, with headquarters outside New York City and field offices in Houston, Manhattan, London, Berlin, Vienna, Toronto, Tulsa, São Paulo, Mexico City, Bangalore, Singapore, Dubai and Sydney.
OpenLink has received numerous industry awards and recognition, including citations as the industry leader in Commodity/Energy Trading and Risk Management (C/ETRM) systems, and first-in-class ranking by Energy Risk magazine, with analyst firms Gartner and Chartis citing OpenLink as a leader in financial platforms.
Media Contacts
Michael Golding
Global Head of Public Relations
OpenLink
michael.golding@openlink.com
Mobile: +44 (0)7766398912
Featured Product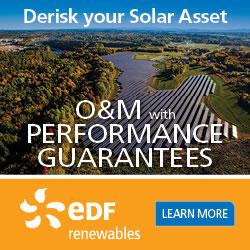 EDF Renewables offers the same innovative solutions that maximize the performance of our own 5.2 GW of installed projects. Because we're not an equipment manufacturer, our recommendations are transparent and data-driven. We cover the entire project lifecycle: from pre-commissioning support, through warranty and post warranty operation, to late stage and decommissioning.