Yingli provides experience and technology in the development of the Iberdrola's "Smart Solar"
MADRID, Spain, Feb. 5, 2016 /PRNewswire/ -- Yingli Green Energy Holding Company Ltd. ("Yingli" or "Yingli Solar") (NYSE: YGE), one of the world's leading solar panel manufacturers, has recently signed an agreement with Iberdrola, for the new product "Smart Solar Iberdrola", the turnkey solar PV solution that Iberdrola has set up to its customers which offers the possibility to generate and consume their own electricity by installing this technology.

The signing ceremony was held at the offices of Iberdrola in Madrid, which was attended by Raquel Blanco, Director of Efficiency and Energy Services of Iberdrola, and Fernando Calisalvo, Managing Director of Yingli Green Energy Spain, a wholly owned subsidiary of Yingli.
Through this partnership, Yingli will provide Iberdrola with its extensive portfolio of solar panels, experience and best resources including technical and human, for assembly work, configuration and monitoring of equipment performance, and preventive and corrective maintenance, to make sure the systems perform as safely and efficiently as possible. Thus, installers and technicians of Iberdrola will have technical assistance and training from Yingli, ensuring that the construction and implementation of the facilities are in the best conditions of quality, speed and safety.
"We are very pleased to have the cooperation of Yingli Solar as we aim to provide a comprehensive solution that meets all the needs of a client who wants to become self-consumer electricity using PV. To do this, have one of the largest manufacturers of solar panels in the world is important," said Raquel Blanco Director of Efficiency and Energy Services of Iberdrola.
"We are pleased to join IBERDROLA'S SMART SOLAR strategy, which is fully aligned with our downstream focus," said Fernando Calisalvo Managing Director of Yingli Green Energy Spain. "We are committed in the promotion and development of clean energy affordable to everyone, through our expertise and high-quality products and services".
About Yingli Green Energy
Yingli Green Energy Holding Company Limited (NYSE: YGE), known as "Yingli Solar," is one of the world's leading solar panel manufacturers. Yingli Green Energy's manufacturing covers the photovoltaic value chain from ingot casting and wafering through solar cell production and solar panel assembly. Headquartered in Baoding, China, Yingli Green Energy has more than 30 regional subsidiaries and branch offices and has distributed more than 14 GW solar panels to customers worldwide. For more information, please visit www.yinglisolar.com and join the conversation on Facebook, Twitter and Weibo.
About Smart Solar Iberdrola
Through this new commercial product, Iberdrola offers its customers an integrated package that includes the design, installation and commissioning of a solar installation fully customized, in addition to financing, consulting, system maintenance, management and monitoring of the plant through innovative web tools and applications. The company also offers the entire power backup that may be needed. With this turnkey solution proposed by the company, residential customers with single-family homes, small businesses, and large businesses irrigators or without commitment can discover if solar power is an efficient alternative for them. In that case, they may generate and consume their own electricity, optimizing consumption and improving the energy efficiency of your installation.
Featured Product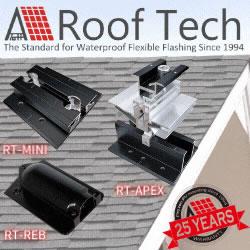 Now Roof Tech brings you the most innovative, watertight mounting systems ever developed for solar photovoltaic systems. Designed and manufactured exclusively for us by Japan's longtime leader in roofing technologies, Roof Tech products are 100% code-compliant and offer fast, simple installation and huge savings on shipping costs due to their compact, rail-less design. Learn more about our full line of versatile PV mounting solutions now available for residential installations. The next generation in rooftop solar mounting solutions."