Klein Tools continues supporting tradesmen with quality tools and hands-on training in the U.S. and overseas
LINCOLNSHIRE, Ill., Feb. 4, 2016 -- Klein Tools (http://www.kleintools.com), for professionals since 1857, and Super Rod (http://www.super-rod.co.uk/), a leader in wire installation tools, today delivered the first shipment of more than £1 million worth of products and resources to JTL, a top not-for-profit electrical training program in the United Kingdom. As part of a five-year program, the donation will supply Klein Tools' products to more than 10,000 apprentices studying at JTL's flagship National Center of Excellence in Birmingham. Today more than 1,500 tool kits were donated at 76 City Electrical Factors locations across England and Wales.

"This donation between Klein Tools and Super Rod ensures convenient access to equipment and education for those interested in becoming electricians," said Malcolm Duncan, managing director of Super Rod. "We want to continue attracting people to this great career and are committed to putting those individuals on a pathway to success."
JTL supports more than 5,000 young people in apprenticeship disciplines, including electrical, plumbing, heating and ventilation and engineering maintenance fields. The organization works with about 3,000 businesses in the United Kingdom to help place apprentices in corresponding positions.
"These tools and instructional materials give our students a great foundation at the start of their careers," said Jon Graham, chief executive of JTL. "We teach the importance of working with safe, quality-proven tools, and this donation puts apprentices on track toward long and successful careers as electricians."
Klein Tools has made a similar donation to the NJATC, the National Joint Apprenticeship and Training Committee in the United States. More than a million dollars of tools and instructional materials have been delivered during the five-year program. The success of the U.S. donation made it possible to expand the program to other markets, including the United Kingdom.
"My great-great-great grandfather started Klein Tools because people came to him to fix poorly manufactured tools that kept breaking. From then on, Klein began making the highest quality tools to ensure electricians could get the job done safely and correctly," said Mark Klein, president of Klein Tools. "It's important for us to provide apprentices with the right products and education, so they can continue making advancements in this trade. Expanding this program into the United Kingdom allows Klein the opportunity to help train the next generation of electricians overseas."
Klein Tools has also launched a similar donation program with Australia Training institutions AIG and Master Electricians Australia.
About Klein Tools
Since 1857 Klein Tools, a family-owned and operated company, has been designing, developing and manufacturing premium-quality, professional-grade hand tools. The majority of Klein tools are manufactured in plants throughout the United States and are the number one choice among professional electricians and other tradespeople. For more information, visit www.kleintools.com.
About Super Rod
Listen, innovate, deliver - Super Rod puts customers at the heart of everything they do. This approach has enabled them to develop the world's leading cable installation system, delivering millions of hours of labour savings for its customers. Focused on the needs of the professional electrician, Super Rod continuously seeks industry innovations to provide the best hand tool solutions for their customers. For more information, visit www.super-rod.co.uk.
U.S. Media Contact:
Erica Sturwold
erica@reputationpartners.com
+1 847-571-0326
UK Media Contact:
Gina Dunn
gina@super-rod.co.uk
01495 792000
Featured Product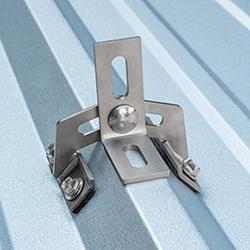 QuickBOLT Low Profile QuickBOLT with Microflashing™ is the industry's affordable, UL Certified Asphalt Shingle mounting system. The Microflashing™ is compressed by the collar on the bolt to create a water-tight seal. With an installation time of less than one minute, the Low Profile QuickBOLT allows installers to complete more jobs.