WINAICO has been recognised as a genuine solar producer exporting Taiwanese-made modules to the European market, and will not be affected by European Commission's extended measures into anti-dumping duties on imports of solar products originated from China
WINAICO, Taiwan's largest PV module brand, has cooperated fully with the European Commission in the investigation of possible circumvention of anti-dumping duties on imports of solar products originated from China. As a result, WINAICO has been recognised as a genuine solar module producer and will be exempt from European Commission's punitive measures of anti-dumping duty and countervailing duty of 53.4% and 11.5%, respectively, against circumventing companies.

European Commission has found strong evidence, by way of significant changes in the pattern of trade involving exports from China, Malaysia and Taiwan to Europe since 2013, to suspect possible circumvention activities of solar products originating from China. After thorough investigation, the modules imported into Europe from non-cooperating companies and circumventing companies in Taiwan account for 7% of European solar module consumption.
"WINAICO began selling high quality solar modules into Europe since 2008, and continues to differentiate itself with integrity and ethical business strategies", said Sascha Rossmann, Vice President of Global Sales for WINAICO. "We cooperated fully with the European Commission's investigation and have proven our innocence in the ongoing dispute on solar module imports to the European markets."
Featured Product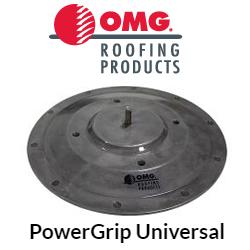 PowerGrip Plus Roof Mount System, a watertight structural attachment system used to secure ballasted solar racks and other equipment to roofs covered with thermoplastic (TPO and PVC) membranes. PowerGrip Plus is designed with wind performance in mind and offers ultimate tensile strength of 2,000 lbf. and ultimate shear strength of 1,075 lbf. Properly installed PowerGrip Plus units reduce rack movement and remaining watertight. PowerGrip Plus units are easy to install, saving both time and labor when compared to alternative options. A wide membrane skirt promotes easy welding in place, and the 15/8 diameter and 1/2 inch tall mount provides an optimal perch for securing brackets or struts. The exposed 1 inch tall and 3/8 inch diameter bolt and mounting stand are made from corrosion-resistant stainless steel and aluminum alloy for superior long-term performance.