OneRoof Energy and University of California, Riverside to test next generation photovoltaic products
SAN DIEGO, Feb. 24, 2016 /PRNewswire/ -- OneRoof Energy, Inc., a residential solar services provider and wholly-owned subsidiary of OneRoof Energy Group, Inc. (TSXV:ON) today announced that it has signed an agreement with the University of California, Riverside to work together to test next generation photovoltaic products.

"This initiative is designed to test next generation solar modules for their functionality under various real life conditions, quantify their benefits to the homeowner, and validate increased energy harvest assumptions," commented David Field, President and Chief Executive Officer for OneRoof Energy. "Once testing is complete, we plan to add the new photovoltaic products to our solar offering portfolio representing what we believe to be the most cost effective durable solution for homeowners that increase energy harvesting from their solar system."
Independent testing of the new technology will be performed by researchers at UCR's Southern California Research Initiative for Solar Energy (SC-RISE), which is part of the Bourns College of Engineering's Center for Environmental Research and Technology (CE-CERT).
Dr. Alfredo Martinez-Morales, SC-RISE Managing Director, said the partnership highlights CE-CERT's reputation as a trusted resource for the analysis of emerging technologies that are being developed to demonstrate renewable energy, energy efficiency and sustainability. "Designing, testing and implementing a new technology for the real world is a complex process and we welcome the opportunity for our students and researchers to evaluate a market-ready technology," Martinez-Morales commented.
About OneRoof Energy
OneRoof Energy Group, operating through its wholly-owned subsidiary, OneRoof Energy, is a complete solar services provider offering homeowners everything from traditional and lease financing, PPAs, solar system design and installation project management to ongoing system monitoring and maintenance services. Utilizing its technology-rich, solar leasing fulfillment platform, OneRoof Energy is partnering with traditional energy retailers and home services companies of all sizes to offer residential customers affordable, renewable energy choices. With its unique end-to-end energy solution, the Company has created multiple touch points to offer cost-saving energy products and services that create a seamless experience for the homeowner while fulfilling their unique energy needs. Currently, OneRoof Energy serves residential customers in nine states including Arizona, California, Hawaii, Massachusetts, New Jersey, Connecticut, Maryland, Pennsylvania and New York with plans for additional expansion. For more information, visit www.oneroofenergy.com.
About Southern California Research Initiative for Solar Energy
University of California Riverside's Southern California Research Initiative for Solar Energy (SC-RISE) aims to become a magnet for research and a clearinghouse for information to drive the adoption of affordable solar energy in one of the world's sunniest regions.
Featured Product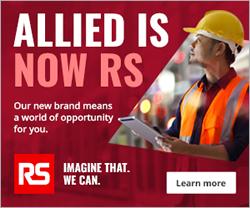 Moxa is a leader in edge connectivity, industrial computing, and network infrastructure solutions for enabling connectivity for the Industrial Internet of Things. With over 30 years of industry experience and 65 million devices connected worldwide, Moxa has a distribution and service network to serve customers in more than 80 countries. Now at Allied-find over 1,000 products from Ethernet switches, protocol converters, routers, and more. Allied Electronics & Automation, part of RS Group & Automation, part of RS Group is an authorized distributor of Moxa.