Sunverge's Virtual Power Plant Capabilities Critical in #2 Solar PV Growth Market
SAN FRANCISCO, Feb. 23, 2016 /PRNewswire/ -- Distributed energy storage leader Sunverge Energy and Japan-based industrial conglomerate MITSUI & CO., LTD., have formed a strategic commercial relationship enabling the two companies to collaborate on select market development initiatives starting in Japan. The arrangement complements Mitsui's $10 million investment that was part of the $36.5 million in Series C Preferred Stock financing raised by Sunverge earlier this month.

"Japan is the second largest market for solar PV growth, which in turn is driving demand for intelligent distributed energy storage solutions," said Ken Munson, Sunverge co-founder and CEO. "Mitsui has been a pioneer in renewable energy and has made early strategic investments in energy storage, and we look forward to working with them to bring the benefits of Sunverge's advanced technology to more utilities and energy users throughout Japan."
Sunverge designs and manufactures advanced, intelligent energy storage systems that allow electric utilities to automatically execute demand response programs for individual customers or to meet peak energy demand for an entire community or service area by linking them into "Virtual Power Plants." This unprecedented level of control, provided via a flexible cloud-based platform, provides more intelligent, automatic and efficient management of distributed energy resources.
"The future of energy depends on the deployment of technologies that support intelligent management of distributed resources, and provides the ability to aggregate those resources into virtual power plants in Japan and across our worldwide network," said Tomonori Suzuki, General Manager of New Business Development Department, Infrastructure Projects Development Division MITSUI & CO., LTD. "Sunverge Energy is a proven global leader in developing this kind of advanced technology, making it an ideal investment and strategic fit for Mitsui."
Background information:
Japan was the world's second largest market for solar PV growth for two years running, adding a record 6.9 GW (2013) and 9.6 GW (2014) of nominal nameplate capacity, according to the International Energy Agency.
Bloomberg New Energy Finance estimates clean energy investment in small distributed capacity (small-scale solar) in Japan totaled USD $31.7 billion last year, up from USD $28.1 billion in 2014.
Global industry research firm IHS estimates the residential energy storage market in Japan will grow 21 percent annually from 79.9 MW in 2016 to 203.2 MW in 2020.
In 2015, METI reduced the Feed-in-Tariff (FIT) for electricity generated by photovoltaic power for household customers (10 kW or less) from JPY ¥37 yen/kWh to ¥35/kWh or ¥33/kWh, depending on whether output control equipment is required, which makes energy storage more economically attractive.
About MITSUI & CO., LTD.
Mitsui is a global trading company with an extensive investment footprint in the electric power industry worldwide and wide-ranging global relationships across industries, with 140 offices in 65 countries /regions. Utilizing its global operating locations, network and information resources, the company multilaterally pursues business ranging from product sales, worldwide logistics and financing to the development of major international infrastructure. Additionally, Mitsui engages in projects in various fields including Infrastructure Projects, Iron & Steel Products, Mineral & Metal Resources, Integrated Transportation Systems, Chemicals, Energy, Food Resources, Food Products & Services, Consumer Services, IT & Communication and Corporate Development. Mitsui actively takes on challenges that create new value through 360° business innovation. For more information, visit http://www.mitsui.com
About Sunverge Energy
San Francisco-based Sunverge Energy allows homeowners efficient management of their own renewable energy generation and helps utilities, retailers and solar power providers manage those renewable power sources and aggregate them into Virtual Power Plants across neighborhoods, communities and entire service areas — reliably, effectively and intelligently. Founded in 2009, the company makes the Sunverge Solar Integration System (SIS), a distributed energy storage and management appliance comprised of powerful storage batteries, power electronics, and system-management software running in the cloud. The Sunverge SIS lowers costs, increases energy reliability, strengthens the grid, and accelerates the adoption and integration of distributed renewable energy. Investors include AGL, the Australian Renewable Energy Agency (ARENA), Kokam, MITSUI & Co., Siemens Venture Capital, Softbank China Venture Capital (SBCVC), Total Energy Ventures International and VisIR. For more information, please visit www.sunverge.com.
Featured Product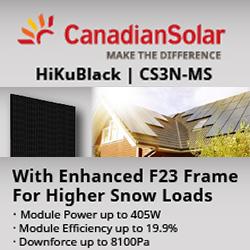 Aesthetic appearance for residential systems: With black backsheet & black frame, Power range 380 ~ 405 W, Low power loss in cell connection. Enhanced reliability: · Low temperature coefficient (Pmax): -0.34 % / °C, LID LeTID less than 2.0%, Lower hot spot temperature, Better shading tolerance.