Call for Papers is still open at BGS Solar Summit & Expo that would take place in a sunny city of Nice, France, 28-29th of September 2016
The 2-day event is devoted to investment and business opportunities in worlds growing solar regions - MENA, Latin America, India, Sub-Saharan Africa, ASEAN. Meet all groups of stakeholders from your target regions in one place and get the latest market updates and best practices.

First BGS Solar Summit & Expo will bring together 500+ of senior-level solar energy experts and specialists representing all groups of stakeholders from 28 to 29 of September in Nice, France.
The Summit is the best source of the comprehensive insight on a solar business landscape in a certain emerging solar region/country - MENA, Latin America, India, ASEAN and sub-Saharan Africa. Governmental targets, business directions, regulations, access to finance, investment opportunities, challenges and pitfalls - all market intelligence and practical information on how to run solar business will be brought to the audience by world-known advisory firms, authoritative experts, local governmental representatives, international investors and other major stakeholders.
Besides, companies who want to sell their solar project or find an investment partner will get a chance to make a 15-minute Project Showcase in front of investors interested in a certain market.
The Expo will gather 100+ exhibitors from all over the world looking for new contacts and opportunities. Each of them will be provided with a number of pre-organized b2b-meetings with their target audience, whether it is a local developer, manufacturer or international investment fund.
The Exhibition Hall is the best place to meet all solar industry stakeholders who are currently studying the opportunity to expand their presence in growing solar regions or enter new markets.
Why visit 5 local events when it is possible to combine in one?
Featured Product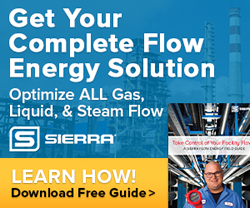 Download Flow Energy Guide - Written by Engineers For Engineers. Learn how to save on energy costs by optimizing your facility flows that impact costs like compressed air, natural gas, steam, and hot or chilled water.