The leading power electronics firm will commercialize proprietary direct current technology to enable highly efficient, cost effective distributed "nanogrids"
Pika Energy, Inc. announced today the initial closing $2.25 Million of a $3.1 million Series A preferred stock offering. The new funds will allow the power electronics manufacturer to scale up manufacturing and sales of its proprietary technology for integrating distributed resources, such as solar photovoltaic (PV) power, with energy storage, the electricity grid and direct current (DC) loads.

The funding round, led by an affiliate of Massachusetts-based Clean Energy Venture Group (CEVG), solidifies Westbrook, Maine-based Pika Energys position as an emerging U.S. clean energy manufacturer. The companys patented approach to DC power electronics which enables the development of "nanogrids," building-level integrated electricity production and distribution systems, has attracted private equity investments in addition to several major grants from the U.S. Department of Energy.
"Our new funding round is unlocking significant growth and accelerating Pika Energys role as a leader in advanced power electronics for distributed energy applications," said Pika Energy President and CEO Ben Polito. "The future will increasingly be powered by distributed clean energy systems, not the centralized fossil fuel power stations. Pikas technology ensures those systems are affordable, efficient, simple to install and operate, and ready for widespread adoption. With the support of our community of investors, were poised to make clean energy ubiquitous and attractive to a wide range of consumers."
John Bobrowich and Wanda Reindorf, both partners at CEVG and new board member and observer, respectively, of Pika Energy, commented, "We believe Pika Energys solution will be a extraordinary enabler of nanogrid based distributed energy systems of the future, and their proprietary technology, highly experienced staff and emerging partnerships will establish the company as a leader in this massive emerging market. We are extremely pleased to have the opportunity to back this team."
Pika Energy also announced on Wednesday the launch of its new product line for solar-plus-storage applications. The Pika Energy Island™ system uses Pikas DC bus to enable simple integration of next-generation batteries with solar PV generation, giving homes and businesses a smart, high-efficiency solution for clean energy integration and management.
"The biggest story in the solar industry right now is distributed energy storage," said Pika Energy Director of Strategic Partnerships Rob Smart. "Our next-generation products are efficiently enabling energy storage and solar PV to communicate with each other in a system that is optimized to meet the needs of our residential, business and OEM customers."
Pika Energy has received past funding from the National Renewable Energy Laboratory (NREL), the Maine Technology Institute and the Small Enterprise Growth Fund. Pikas private investors include members of the Maine Angels and eCoast Angels.
About Pika Energy
Pika Energy, Inc. is a manufacturer of direct current (DC) power electronics. Headquartered in Westbrook, Maine, Pika Energys products include bi-directional, islanding inverters, battery charge controllers, DC solar optimizers, power converters, and certified small wind turbines. All Pika Energy products are powered by the REbus™ DC nano-grid. Pika Energys products provide grid-optional clean power that enables buildings to collect, store and self-consume energy from solar PV and wind sources. Learn more at http://www.pika-energy.com.
About Clean Energy Venture Group
Clean Energy Venture Group is an investment group that provides seed capital and management expertise to early stage clean energy companies. The group is comprised of seasoned operating executives with strong capabilities in the energy and environmental sectors. With each investment, CEVG brings not only capital, but also the value of its experience and network to help companies achieve their goals.
Featured Product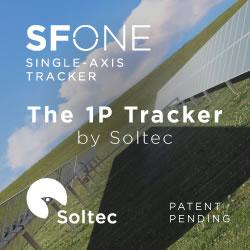 SFOne is the 1P single-axis tracker by Soltec. This tracker combines the mechanical simplicity with the extraordinary expertise of Soltec for more than 18 years. Specially designed for larger 72 an 78 cell modules, this tracker is self-powered thanks to its dedicated module, which results into a lower cost-operational power supply. The SFOne has a 5% less piles than standard competitor, what reduces a 75% the labor time.