Collaboration sets stage to commercializing transparent electricity-generating coatings, turning buildings into "power generators"
COLUMBIA, Md.--(BUSINESS WIRE)--SolarWindow Technologies, Inc. (OTCQB: WNDW), the leading developer of first-of-its-kind transparent electricity-generating coatings for glass and flexible plastics, today announced that it has entered into Phase III of its Cooperative Research and Development Agreement (CRADA) with the U.S. Department of Energys National Renewable Energy Laboratory (NREL). The primary development goal of the Agreement is the commercialization of SolarWindow™ products.

NREL is recognized as one of the most respected and advanced solar-photovoltaic research institutions in the world. NREL scientists have been working side-by-side with SolarWindow Principal Scientist, Dr. Scott R. Hammond during the development of SolarWindow transparent electricity-generating coatings. SolarWindow is initially targeting the five million tall towers and commercial buildings in the United States, which consume almost 40% of the electrical energy generated.
"The prospect of skyscrapers generating electricity from see-through window products is very exciting," said Dr. Maikel van Hest, a Senior Scientist in the Thin Film and Processing Group within the National Center for Photovoltaics at NREL. "Through our CRADA, we have been able to develop and test this technology using some of the worlds most advanced state of the art equipment. As a result, SolarWindow and NREL have advanced the technology by enhancing scale, efficiency and reliability."
Under the terms of the Agreement, SolarWindow and NREL will continue to work jointly to enhance product performance, increase scale, and improve reliability; and develop new features and obtain important performance certifications required for a commercial rollout.
In addition, the team will focus on various SolarWindow™ product-specific goals, including:
Large scale window fabrication
Interconnection development for easy 'plug-n-play on-site installation
Advanced performance measurement and modeling of SolarWindow™ when installed in various building types and geographies
SolarWindow™ performance under varying artificial and natural light conditions
SolarWindow™ can provide a one-year financial payback while producing 50-times greater energy than rooftop solar when modeled for a 50-story building, according to the companys independent validation. For the same building, SolarWindow shows 15-times the environmental benefit of rooftop solar by avoiding 2.2 million miles of equivalent carbon dioxide emissions produced by vehicles, according to the companys independently validated Power & Financial Model.
"With this CRADA extension in place, were one step closer to launching what is possibly the single greatest breakthrough technology in clean energy to help us overcome our dependence on fossil fuels," said John A. Conklin, President and CEO of SolarWindow. "Keeping in mind that commercial buildings consume almost 40 percent of Americas electricity, our goal is to put a solid dent in reducing carbon emissions and offsetting a building carbon footprint while providing customers with clean electricity-generating solutions that make economic sense."
About SolarWindow Technologies, Inc.
SolarWindow Technologies, Inc. is a developer of next generation, transparent electricity-generating SolarWindow™ coatings.
SolarWindow™ coatings generate electricity on see-through glass and flexible plastics with colored tints popular to skyscraper glass. Unlike conventional systems, SolarWindow™ can be applied to all four sides of tall towers, generating electricity using natural and artificial light conditions and even shaded areas. SolarWindow™ uses organic materials, which are dissolved into liquid, ideal for low-cost high-output manufacturing; and is the subject of a patent pending technology.
The companys Proprietary Power Production & Financial Model (Power & Financial Model) uses photovoltaic (PV) modeling calculations that are consistent with renewable energy practitioner standards for assessing, evaluating and estimating renewable energy for a PV project. The Power & Financial Model estimator takes into consideration building geographic location, solar radiation for flat-plate collectors (SolarWindow™ irradiance is derated to account for 360 degree building orientation and vertical installation), climate zone energy use and generalized skyscraper building characteristics when estimating PV power and energy production, and carbon dioxide equivalents. Actual power, energy production and carbon dioxide equivalents modeled may vary based upon building-to-building situational characteristics and varying installation methodologies.
For additional information, please call Ms. Briana L. Erickson toll free at 1-800-213-0689 or visit: www.solarwindow.com.
Featured Product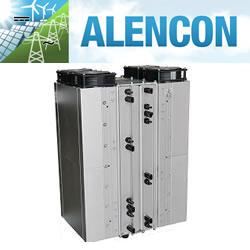 Alencon Systems is the premier manufacturer of high power, high voltage DC:DC optimizers for alternative energy applications including solar, battery energy storage, Microgrids, Fuel Cells and Electric Vehicle charging. Alencon's DC:DC converter offerings include the SPOT, BOSS and CUBE series DC:DC converters. The SPOT is a modular, uni-directional DC:DC solution ideal for solar applications. The BOSS is a modular, bi-directional unit for use with battery energy storage. The CUBE is a monolithic DC:DC converter which is available in both uni-directional and bi-directional modalities. Pictured above, is the Alencon SPOT.