Will contribute to stable power supply with world-leading 50,000-kilowatt storage battery system
TOKYO--(BUSINESS WIRE)--Mitsubishi Electric Corporation (TOKYO:6503) announced today its delivery of the worlds largest energy-storage system—50 MW output and 300 MWh rated capacity—to Kyushu Electric Power Co. on March 3. The system, which is part of a pilot project to balance supply and demand via high-capacity energy-storage systems, was installed at the Buzen Substation in Buzen, Fukuoka Prefecture.

The facility offers energy-storage capabilities similar to those of pumped hydro facilities while helping to improve the balance of supply and demand when renewable energy sources are used. The energy storage system achieves effective overall control and improved operational efficiency through the use of Mitsubishi Electrics BLEnDer® RE battery SCADA system to monitor and control modules in a multiple module system. Also, containerized, compact (double stacked) battery modules help to reduce the facility footprint, installation time and construction costs.
BLEnDer RE Battery SCADA System
BLEnDer RE is primarily an energy-management system that monitors and controls energy storage within the SmartGrids power supply and demand system. The system smooths variations in frequency and power flow caused by renewable generation via battery control. In addition, it enables efficient operation via power supply control through the coordinated use of multiple-generation sources and batteries, as well as technology for optimizing operation, stoppage timing and output of the various sources.
As the use of renewable energy resources expands worldwide, Mitsubishi Electric will continue building on its technical capabilities to supply advanced battery-energy storage-control facilities for the stable supply of electric power in Japan and worldwide.
Featured Product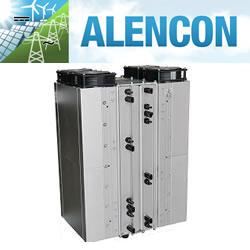 Alencon Systems is the premier manufacturer of high power, high voltage DC:DC optimizers for alternative energy applications including solar, battery energy storage, Microgrids, Fuel Cells and Electric Vehicle charging. Alencon's DC:DC converter offerings include the SPOT, BOSS and CUBE series DC:DC converters. The SPOT is a modular, uni-directional DC:DC solution ideal for solar applications. The BOSS is a modular, bi-directional unit for use with battery energy storage. The CUBE is a monolithic DC:DC converter which is available in both uni-directional and bi-directional modalities. Pictured above, is the Alencon SPOT.