Minneapolis energy technology company calls it an exciting 'game-changer for industry
Company leaders at Minneapolis-based Novus Energy say the future is brighter and "greener" for Americans today with last weeks USDA announcement of an $11 million dollar federal loan guarantee to Novus Energy that will help it build a new, innovative biorefinery plant. Rural Development Under Secretary Lisa Mensah pledged federal support for the Boardman, Oregon plant in the Port of Morrow. "The USDA is proud to support innovative, biobased projects such as this one," said Mensah. Novus Energy President and CEO Joe Burke says this is great news for both the Pacific Northwest and Minnesota. "This will help us in the financing of this ground-breaking project, and also create economic development in both areas of the country," he said.

The $22 million dollar five-acre plant will apply the companys highly efficient Novus Bio-Catalytic System (NBC™) to convert non food organic materials into renewable natural gas (methane) and organic fertilizer in a fraction of the time as compared to traditional industry "digesters." "Its innovative—our technology produces gas in 4 days instead of 15 to 20 days and we convert 90 percent of the organics rather than the 50-60 percent industry average," said Burke. "It is truly an innovative technology that benefits the environment." The project also benefits the region, says Port of Morrow General Manager Gary Neal, "Novus is good for all of our industries, taking unwanted waste and reusing it to turn it into something of value. It's a win-win for everyone."
The company was chosen among six finalists for a loan guarantee by the USDA in its Biorefinery, Renewable Chemical and Biobased Product Manufacturing Assistance Program. "This biorefinery will spur economic development, create new jobs and provide new products for farm commodities in rural Oregon," said Mensah. This is only the second time the USDA has offered such assistance loans, funded by the 2014 Farm Bill.
"Weve been working on this project for over three years," Burke said. "Our selection into this program validates our technology—this is an accelerator for us." Securing the debt for the project with this loan, he says, helps Novus stay on track to break ground for the plant in 2016 and get production under way next year. The Novus Pacific project, as its called, is projected to create a total of about 55 jobs in its construction phase—workers who will help the U.S. become more energy independent and reduce greenhouse gas emissions.
About the Novus Bio-catalytic System (NBC™)
The NBC™ System generates 4 times more renewable natural gas than traditional anaerobic digesters.
In one streamline operation, this groundbreaking technology converts non-food agricultural waste into methane as well as other green byproducts such as liquid organic fertilizer, a fiber that can replace commercially-mined peat moss and clean water. The NBC™ System process kickstarts the bacteria used to ferment the waste and digest it—its much more efficient and operational costs are lower.
The numbers tell the story: Novus Pacific is expected to process up to 750 tons per day of non-food organic waste, producing up to 3.8 million cubic feet of renewable natural gas per day, 350 gallons of liquid fertilizer daily and 11 tons per day of soil amendment.
About Novus Energy
Novus Energy is an energy technology company based in Minneapolis, Minnesota, started in 2004. At Novus, we work hard to be green—designing, building and managing plants that convert organic waste (non-food agricultural waste) to sustainable clean energy. We use ground-breaking technologies that create production cost advantages. In short, Novus is the powerful alternative to other fuel production methods, renewable or fossil. We create a vast source of renewable fuel, clean water and fertilizer while reducing the dependence on fossil fuel and harmful effects of discharging untreated waste materials.
For more information, visit our website at: http://www.novus-energy.com. To schedule interviews, contact media liaison Robb Leer at 612-701-0608.
Featured Product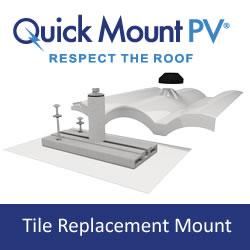 The Tile Replacement Mount provides a fast and easy way to install solar on tile roofs while protecting against water intrusion. Simply remove the tile and replace it with the Tile Replacement Mount. Works with all standard curved and flat tile roofs, and all standard rail-based racking systems. Flashed at both the deck and top levels, the mount is fully engineered to meet code requirements and industry best practices. The Tile Replacement Mount features Quick Mount PV's patented Elevated Water Seal technology for optimal waterproofing. Get a free sample and see for yourself!