Nominations for Intersolar AWARD Program Now Open, Applications Due March 24
SAN FRANCISCO, March 9, 2016 - The technologies and innovations driving the North American solar and electrical energy storage markets growth will be on display at Intersolar and ees North America, the most attended solar industry and electrical energy storage exhibition and conference dedicated to the North American market. New this year is an expanded program on smart renewable energy technologies, which includes the devices and communication technology that help integrate decentralized photovoltaic installations and energy storage systems onto the grid. Exhibitors from around the world will be on hand at the events, which are recognized worldwide as innovative industry platforms, from July 12 to 14 at San Franciscos Moscone Center West. Exhibition registration will open March 15.

Exhibition organizers anticipate that 18,000 visitors from around the world will see the newest products that promise to increase the global supply of solar power and electrical energy storage. The ninth installment of Intersolar North America will feature five exhibition segments: PV Cells & Modules; Components, Mounting & Tracking Systems; Balance of Systems; PV Manufacturing Equipment, Materials & Components; and Solar Thermal/Solar Heating & Cooling. Energy storage solutions will be on display at the co-located ees (electrical energy storage) North America, where exhibition space has been in high demand.
"Recognized as a global platform showcasing innovations changing the industry, Intersolar and ees North America are second to none," said Dr. Florian Wessendorf, managing director of Solar Promotion International GmbH, and Daniel Strowitzki, CEO of FMMI International, the organizers of Intersolar and ees North America. "As the solar and electrical energy storage market continues to grow, it is critical for businesses at every stage to stay on top of the new products that are being introduced and market trends that are changing the landscape. To showcase the future of energy supply both events will include a complementary Smart Renewable Energy Program that discusses all current topics regarding small and large electrical storage systems, intelligent transformers and virtual power plants."
With much of the exhibition space booked, the Intersolar and ees North America 2016 show floor brings together both industry leaders and promising start-ups to display their latest innovations. Organizers expect approximately 550 exhibitors at this years event, which is co-located with SEMICON West for the ninth year in a row. The list of exhibitors is available online, with new companies added weekly. Interested companies can still book booth space. More information is available online.
The exhibition floor will also be home to a series of free special presentations and workshops on smart renewable energy technologies at the ees Stage and Innovation & Application Stage. The Intersolar North America Conference, located at the nearby InterContinental Hotel, will offer four smart renewable energy sessions. The high-level panel discussions will cover topics related to system integration; building a smarter grid; grid structure & big data; and an overview of state approaches to distributed energy resources. This growing market sector is an important part of renewable energy generation, and presentations will discuss the technologies included in electric vehicles and charge management; predictive energy management systems; and intelligent power grids. Market leaders will demonstrate how new innovations will help manage the integration of more renewable energy onto the grid, and help balance the power between larger solar power plants and smaller, decentralized systems. Visitors can see electric vehicles (EVs) and EV charging stations up close at the returning e-Mobility special exhibit at Moscone Center West Hall, Level 2. More information is available online.
Intersolar AWARD Adds New Project Category
In addition to prizes helping to shape the future of the solar industry and acknowledging breakthroughs in technological innovation, the 2016 Intersolar AWARD program will include an Outstanding Solar Projects category, which honors projects both large and small that provide an inspiring example of the global energy transformation. Along with Intersolar and ees exhibitors, project owners are also eligible to submit an AWARD nomination. This category combines the previously separate awards for projects in North America, Europe and India. The energy storage market is booming and accordingly the ees AWARD will be presented for the third time in 2016. The award celebrates outstanding products and solutions for energy storage technology in the areas of materials, production, systems technology, applications, second-use concepts and recycling.
Exhibitors are encouraged to submit an application for the Intersolar and ees AWARDs, which are accepting registrants through Thursday, March 24. Nominations can be submitted online.
About ees North America
The ees global exhibition series is the electrical energy storage industrys hotspot for manufacturers, distributors, users and suppliers of stationary and mobile storage solutions. ees® exhibitions are organized in cooperation with Intersolar, the worlds leading exhibition series for the solar industry.
The ees exhibitions and accompanying conferences are focused on storage solutions for renewable energy, from residential and commercial applications to large-scale storage systems for stabilizing the grids. ees also features energy management, electric transportation and uninterruptible power supply (UPS).
There are three ees events around the world—ees North America in San Francisco, ees Europe in Munich, and ees India in Mumbai. The ees North America debuted in 2015 as a special exhibition in San Francisco. In 2016, ees North America becomes a stand-alone exhibition co-located with Intersolar North America.
With 100 expected exhibitors and 18,000 visitors at the co-located events, it will be the most-attended solar-plus-storage event in the U.S.
For more information on ees please visit www.ees-northamerica.com
About Intersolar North America
With events spanning four continents, Intersolar is the worlds leading exhibition series for the solar industry and its partners. It unites people and companies from around the world with the aim of increasing the share of solar power in our energy supply.
Since its establishment in 2008, Intersolar North America has become the most attended solar event and the premier networking platform for the North American solar industry. Co-located with SEMICON West, Intersolar North America takes place annually at the Moscone Center in San Francisco, in the heart of the United States pioneering solar market. The event will expand to host a co-located energy storage-focused exhibition, ees North America. ees grew out of Intersolar North Americas popular energy storage exhibition segment.
A total of 521 exhibitors and around 17,835 visitors participated in Intersolar North America in 2015. The conference and exhibition program featured 47 sessions with more than 200 speakers and 25 workshops.
Intersolar North Americas exhibition and conference focus on photovoltaics, energy storage systems, smart renewable energy and solar heating & cooling technologies. Since being founded, Intersolar has become the most important industry platform to connect manufacturers, suppliers, distributors, service providers, policy makers, start-up founders, financiers, installers and partners in the global solar industry.
With 25 years of experience, Intersolar has the unique ability to bring together members of the solar industry from across the worlds most influential markets and solar supply chain. Intersolar exhibitions and conferences are held in Munich, San Francisco, Mumbai, and São Paulo, and, starting in 2016, in Dubai. These global events are complemented by the Intersolar Summits, which take place in emerging and growing markets worldwide.
For more information on Intersolar North America, please visit: www.intersolar.us
Featured Product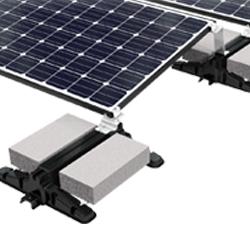 The Power Rail™ Commercial Mounting System is designed with the professional PV solar installer in mind. Both the XD/UD and LD/MD rails feature single tool assembly with the revolutionary patented RAD™ Lock-in-Place bolt for fast and secure module clamping. The high strength marine-grade aluminum rails include an integral wiring channel for securing cables and providing a professional finish.