After a packed seminar at CWIEME Chicago in October last year, Dr. Konstantinos Laskaris, principal motor designer at Tesla Motors, will be joining other leaders in the design and manufacture of electric motors and transformers this May in the 2016 CWIEME Berlin seminar programme.
Electric cars have come a long way since Tesla Motors first set up shop in 2003. Following the launch of its now iconic Roadster in 2008, its first sedan car - Model S - in 2012, and its Model X crossover vehicle in 2015, the company now has over 50,000 vehicles on the road in more than 30 countries worldwide. Tesla cars have been widely praised for their performance advantages over traditional combustion-engine-powered cars, thanks to their efficient, quiet and vibration-free motors with very high power density and instantaneous direct response to inputs. Yet questions remain over the range and cost of electric vehicles, which Tesla Motors principal motor designer Dr. Konstantinos Laskaris hopes to dispel through his participation at the forthcoming CWIEME Berlin exhibition for coil winding, insulation and electrical manufacturing.

"It took some time before battery technology was brought to a level where it could provide decent range and power - and in a size that is convenient and efficient for a car," Dr. Laskaris says. "But todays supercomputers now allow us to analyze with extreme detail and model the physics with accuracy and, therefore, optimize all aspects of the EV powertrain."
At this point in Tesla Motors development, optimization is indeed the name of the game. At the companys facility in Freemont, California, Laskaris and his team of motor design engineers use a computer cluster to generate and analyze many different motor geometries in parallel to solve loss and efficiency maps in the blink of an eye.
"We are looking to achieve the right balance of motor size, power, efficiency, performance and cost - and they are all interrelated. For example, if you can reduce the motor size, you not only increase efficiency but can save on the total system cost by reducing the amount of material used and removing battery cells per given range," he says.
Dr. Laskaris will be discussing trade-offs between motor cost and efficiency in high power density motors in his seminar 'Optimal motor selection considering power density and efficiency for EV applications at CWIEME Berlin on Tuesday 10th May, 13:00-13:40. He will make reference to both induction and permanent magnet machine high frequency loss mechanisms, giving a low-level view of the pros and cons of each technology.
Ask the expert
The following day, Wednesday 11th May, Dr. Laskaris will be interviewed live on stage at the CWIEME Central theatre in a session, entitled 'In conversation with Konstantinos Laskaris at 11:45. There will be multiple opportunities for audience members to put their questions to Dr. Laskaris both during and after the session.
"I am anticipating many questions about winding since different winding methodologies and materials can exert a huge influence on motor cost and efficiency. I spoke to so many people after my seminar at CWIEME Chicago in 2015 and saw that many people wanted to challenge me. Im looking forward to that again on a bigger scale in Berlin," he says.
Dr. Konstantinos Laskaris received his diploma in Electrical and Computer Engineering from the National Technological University of Athens (NTUA), Greece, in 2002, his masters degree in Signal Processing from Imperial College London, UK, also in 2002 and his PhD in Electric Motor Geometry Optimization for variable speed drives from NTUA in 2011. He has held the position of principal motor designer at Tesla Motors in Silicon Valley, USA since 2012. His research interests include parametric design and loss modeling of synchronous and asynchronous machines using finite element analysis, as well as the development of multi-objective optimization methods using supercomputers.
"It is a huge coup for us to have Dr. Laskaris, a true trailblazer for the EV industry, as part of our seminar programme for CWIEME Berlin 2016," says Ingerid Sorgaard, acting content manager for the CWIEME exhibition series. "He has so many invaluable insights to share with visitors and exhibitors alike and I hope they will fully capitalize on this opportunity to pick his brains and draw on his wealth of knowledge and experience."
Featured Product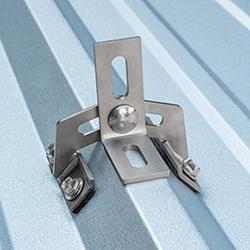 QuickBOLT Low Profile QuickBOLT with Microflashing™ is the industry's affordable, UL Certified Asphalt Shingle mounting system. The Microflashing™ is compressed by the collar on the bolt to create a water-tight seal. With an installation time of less than one minute, the Low Profile QuickBOLT allows installers to complete more jobs.