New facility supports increasing volume of low voltage systems for European customers
LIVONIA, Mich.--(BUSINESS WIRE)--A123 Systems LLC, a developer and manufacturer of advanced lithium-ion batteries and systems, today announced that it is expanding its operations in Europe by opening a new manufacturing facility in the Czech Republic city of Ostrava. The company currently operates manufacturing facilities in Hangzhou, China, Changzhou, China and southeastern Michigan in the United States. The opening of the new facility is the result of a substantial surge in European market demand for low voltage automotive products, a strategic focus of A123. The new plant will complement A123s existing technical center in Stuttgart, Germany.

With the assistance of CzechInvest, A123 will open the manufacturing plant in Ostrava and expects to begin production in the second half of 2016. This European location will establish regional assembly of A123s advanced 12V Lithium-ion starter battery and next generation 48V battery and cost effectively support the growing market demand. By providing an alternative to traditional lead-acid technology with an environmentally conscious solution that delivers lower emissions and increased fuel economy benefits, A123 has strengthened its market leadership for micro-hybrid battery systems.
"Our new business wins in the micro-hybrid market have validated A123s strategy and given us an opportunity to expand our global manufacturing footprint," said Jason Forcier, CEO. "Our recently announced technology advancements related to high power chemistries have resulted in over $1B in new low voltage business awards globally in the last 15 months. We are honored to be the market leader in this space."
The Ostrava facility will be located in an industrial park operated by CT Park, with adequate opportunity for expansion as the business continues to develop. The system assembly capacity in phase one of the factory will exceed 600,000 units per year and the company expects to reach this level of production in the next few years based on business it has already been awarded.
About A123
A123 Systems is a global leader in providing complete energy storage solutions through advanced battery cells and systems for transportation and commercial applications, offering performance, reliability, and cost savings from concept through commercialization. A123 is a wholly owned subsidiary of the Wanxiang Group.
Featured Product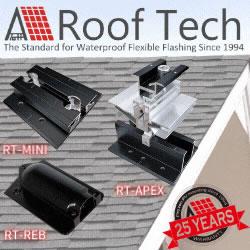 Now Roof Tech brings you the most innovative, watertight mounting systems ever developed for solar photovoltaic systems. Designed and manufactured exclusively for us by Japan's longtime leader in roofing technologies, Roof Tech products are 100% code-compliant and offer fast, simple installation and huge savings on shipping costs due to their compact, rail-less design. Learn more about our full line of versatile PV mounting solutions now available for residential installations. The next generation in rooftop solar mounting solutions."