Leading renewable energy underwriter supports growth of Irish wind industry both domestically and overseas
Dublin, 22nd March 2016 - Specialist renewable energy insurer, GCube Underwriting Ltd. (GCube), has significantly expanded its portfolio of underwritten Irish wind energy assets, now surpassing 1GW of operational wind farms and construction sites throughout the Republic of Ireland and Northern Ireland. Furthermore, the insurer now underwrites 300MW of wind capacity developed and operated by Irish firms in emerging markets overseas.

Ireland is one of the most successful markets worldwide for wind energy use, with just under a quarter of total electricity demand met by wind in 2015. Current installed capacity stands at 2.4GW, and continued investment to 2020 and beyond will see this figure rise further in the coming years.
However, despite this growth, an uncertain political landscape in the run up to and following the recent General Election, combined with rising community opposition to onshore projects, means that there can be no complacency amongst Irish developers and operators and has encouraged key players within the industry to explore alternative opportunities.
Specifically, recent moves to start taking advantage of offshore wind potential in the Irish Sea have attracted the attentions of the finance and investment community, while Irish-parented developers continue to make headway in emerging markets overseas, including Latin America and Africa.
With this expanding international footprint, combining extensive operational portfolios and new sites in remote territories worldwide, the industry must keep a lid on project risk, both domestically and abroad, in order to ensure the sustained viability of Irish wind as a high-quality, reliable investment.
Over the past 20 years, GCube has provided essential insurance services to developers, operators and investors on over 40 domestic Irish wind farms, supplying policies to cover projects throughout their lifetime. These range from all-encompassing Construction All Risks (CAR) and Operation All Risks (OAR) coverage to specific liability, transit and cargo policies.
In territories further afield, such as Latin America and South Africa, where market-specific concerns related to transport infrastructure, grid constraints, local content and regulatory and political risk enter the equation, GCube has used its regional expertise and specialist policies to support Irish developers on a number of first-in-country projects.
"Irish wind energy is a success story - not just because of its achievements within the competitive domestic electricity market, but also as a result of a capacity to export its experience and lessons learnt internationally," said Phil Pavey, Senior Underwriter, GCube Underwriting Ltd.
"In doing so, however, the industry inevitably becomes exposed to new risks. The challenges involved in operating in overseas markets in Latin America and Africa - or in entering a new sector like offshore wind - are rather different. Additionally, stretching a firms resource over several territories can impact on the ability to manage financial and logistical risks even in the domestic market."
"As Irish wind proliferates around the globe, safeguarding its reputation as a bankable, investment-grade asset at home and abroad with market-specific insurance support will be a key part of cementing this growth."
About GCube
GCube is the leading provider of insurance services for renewable energy projects in wind, solar, biofuels, wave, hydro and tidal around the globe.
Its specialised focus and robust underwriting authority offers unparalleled marine, property, liability and political risk insurance coverage for all renewable energy risks. With over 25 year's experience in the renewable energy sector, GCube understands the unique exposures of these power generation projects and assists its clients in identifying, quantifying and mitigating risk efficiently and economically while helping them achieve their business objectives.
To learn more about how we can support your insurance coverage requirements, please visit our website at www.gcube-insurance.com.
Featured Product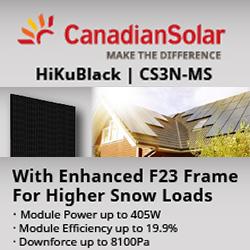 Aesthetic appearance for residential systems: With black backsheet & black frame, Power range 380 ~ 405 W, Low power loss in cell connection. Enhanced reliability: · Low temperature coefficient (Pmax): -0.34 % / °C, LID LeTID less than 2.0%, Lower hot spot temperature, Better shading tolerance.