Company reports leading market share positions in megawatts developed and put in service, corporate purchaser deals and megawatts under maintenance contracts
SAN DIEGO--(BUSINESS WIRE)--EDF Renewable Energy (EDF RE), a subsidiary of EDF Energies Nouvelles (EDF EN) proudly shares the news of their lead position in U.S. market share for the development of new wind energy capacity additions in 2015. The company developed 1,055.4 megawatts* (MW) of installed capacity across five states giving them a 12% market share. The Company is an affiliate of the EDF Group - one of the worlds largest electric utilities.

"2015 was a record year for us. We are extremely proud to achieve 12% of the market share thanks in part to the acquisition of OwnEnergy," states Tristan Grimbert, CEO and President of EDF Renewable Energy. "It could not be done without the commitment of our team members, landowners and communities. We thank each of them for making EDF RE a great success this year."
Grimbert further adds, "EDF Group, as part of its ambition to be the worldwide champion for low-carbon growth in the electricity sector, expects to double the groups installed capacity from renewable energy sources by 2030. EDF EN, the entity charged with renewable development globally, will largely contribute to this goal through EDF REs North America market position."
The EDF RE capacity additions include projects in some of the top states for wind power production according to American Wind Energy Associations fourth quarter 2015 report, (Kansas, Texas and Iowa) and comprised the following eight projects:
Slate Creek Wind (150 MW) Kansas
Alexander Wind (48.3 MW) Kansas**
Spinning Spur 3 Wind (194 MW) Texas
Longhorn Wind (200 MW) Texas
Carroll Area Wind (20 MW) Iowa**
Milo Wind (18 MW of 49.65 MW) New Mexico
Roosevelt Wind (250 MW) New Mexico
Pilot Hill Wind (175 MW) Illinois
EDF RE is also leading the way in the commercial and industrial (C&I) space with five wind deals executed tallying 543 MW with Fortune 500 companies, making the company #1 in terms of customer relationships serving the corporate purchaser market. EDF Renewable Energy has partnerships with Microsoft, Yahoo, Google, Procter & Gamble and Salesforce. According to the Business Renewable Center, corporate market share of contracted wind capacity nearly tripled from 19% in 2014 to 56% in 2015.
"Corporate America is increasingly turning to renewable energy to power its business operations, based both on consumer preferences and because renewable energy simply makes economic sense. We are honored to have partnered with 18% of the corporations that signed renewable power purchase agreements over the past 3 years," says Ryan Pfaff, Executive Vice President of Development, EDF Renewable Energy.
In addition to posting top market positions in project development, the operations and maintenance group, EDF Renewable Services, reported 10.7 GW of wind, solar, bioenergy and storage under contract in 26 states and provinces in North America.
"Our customers have come to rely on our deep technical expertise with a variety of turbine types, coupled with our strong focus on safety. 2015 was a good year for us, and with an emphasis on value-added services such as asset management and blade inspections and repairs," states Larry Barr, Executive Vice President of Operations and Maintenance, EDF Renewable Services.
*includes 68.3 MW of OwnEnergy projects put into service in 2015. EDF RE acquired OwnEnergy in August 2015.
**OwnEnergy developed project put into service in 2015.
About EDF Renewable Energy:
EDF Renewable Energy is a leading US independent power producer with nearly 30 years of expertise in the renewable industry, covering all range of services from project origination, development, sales and marketing, to long-term asset management. EDF Renewable Energy specializes in wind and solar photovoltaic with presence in other segments of the renewable energy market: storage, biogas, biomass, hydro, and marine energy. EDF Renewable Energys North American portfolio consists of 7.8 gigawatts of developed projects with 4.1 gigawatts of installed capacity throughout the US, Canada, and Mexico. The operations and maintenance subsidiary, EDF Renewable Services, operates over 10.7 GW throughout North America. EDF Renewable Energy is a subsidiary of EDF Energies Nouvelles. EDF Energies Nouvelles is the renewable energy arm of the EDF group, the leading electricity company in the world. For more information visit: www.edf-re.com
Featured Product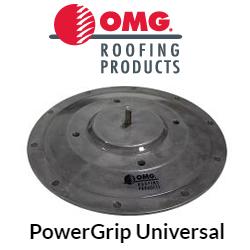 Eliminate Solar Rack Ballast and Reduce Rooftop Material Handling. PowerGrip™ Universal (PGU) is a commercial roof mount system designed to secure solar racks and other equipment to any type of commercial roofing system. PGU provides a secure connection directly to the roof deck or structural members and is designed to reduce or eliminate ballast in solar racking systems, so there's less weight on the roof and less material handling. Made of heavy-duty cast aluminum, PGU units include a base ring which is secured through the roofing cover and into the structural roof deck, and a waterproof top plate.