System installed at the Casablanca: The Grand Collection show home
MISSISSAUGA, Ontario--(BUSINESS WIRE)--Panasonic Eco Solutions Canada Inc. announced today that LIV Communities is Canada's first home builder to install a Panasonic Residential Solar PV + Energy Storage Solution in one of its show homes. LIV's Casablanca: The Grand Collection in Brampton, Ontario will offer the system as an upgrade to executive homes being built for homeowners looking to invest in and benefit from solar energy.

The solar modules in this installation use black materials, offering homeowners a clean, modern aesthetic. The system will be available as an energy management option for other select LIV homes in its Classics and Casablanca communities, also in Brampton.
"Panasonic's installation of an energy management system in LIV Communities marks the next phase in residential solar energy and an industry-leading step forward in sustainable housing," said Walter Buzzelli, Managing Director at Panasonic Eco Solutions Canada Inc. "As we continue to roll out projects with LIV Communities, we are excited for homeowners to realize the benefits of investing in solar and energy management technology."
The Panasonic Residential Solar PV + Energy Storage System installation is one of the first net-metering projects of its kind for Brampton Hydro One. Net-metering allows customers who generate their own electricity from solar power to feed excess power back into the grid. The battery system can store electricity for backup power during a grid outage.
Panasonic's Residential Solar PV + Energy Storage Solution uses the latest Lithium-ion battery technology to capture and use solar energy. This integrated solution maximizes consumption by allowing homeowners to easily adjust the system as energy needs fluctuate. With the solar PV system, battery and grid working together to power the home, this intelligent system takes the guess work out of managing residential solar power.
"The collaboration with Panasonic Eco Solutions demonstrates a shift in home building towards the integration of green solutions into the overall design and offering," said Anthony Martelli, Chief Operating Officer, LIV Communities. "The innovative technology allows our customers to live with peace of mind knowing they are prepared for future blackouts or outages while enjoying the added benefits of sustainability and savings on electricity bills."
Casablanca Grand Collection homeowners will realize a number of benefits including:
Clean energy source using a solar PV system paired with a hybrid inverter and a compact 10-kWh capacity Lithium-ion battery system powered by Panasonic batteries;
Lower utility bills from using electricity generated by the solar system
Back-up/emergency power which offers peace of mind knowing that designated household systems will stay on regardless of potential grid outages;
A monitoring system and remote control device to help homeowners monitor their electricity usage patterns, and set times to charge/discharge the battery;
Ability to better manage the cost of energy by using less energy from the grid during peak demand times.
About Panasonic Eco Solutions Canada Inc.
Panasonic Eco Solutions Canada Inc. is an affiliate of Panasonic Corporation of North America, the principal North American subsidiary of Panasonic Corporation headquartered in Osaka, Japan. The company's mission is to lead in the deployment of renewable, smart energy systems in Canada. Panasonic provides reliable and bankable, end-to-end turnkey solutions, enabling all the required elements for renewable solar and energy storage initiatives, including full installation, financing, long-term assurance and operations and maintenance.
About LIV Communities
With more than 40 years of home-building experience, Landmart Homes, a Burlington-based and family owned company, strives to continually design and build exclusive high-quality custom homes for thousands of families -LIV Communities carries on the tradition of Landmart by building master-planned communities. By working with Panasonic, the solar and energy storage system that will be installed in LIV Communities Casablanca: The Grand Collection model home will help provide it with the best Home Energy Rating System (HERS) index rating, which measures a home's energy efficiency and assigns it a performance score.
Learn more about Panasonic Eco Solutions Canada by visiting: http://www.panasonic.ca/solar.
Featured Product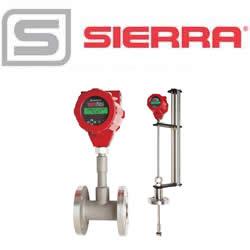 Sierra was the first to introduce a combination volumetric vortex and multivariable mass flow meter in 1997. Today, Sierra's completely redesigned InnovaMass® iSeries™ 240i/241i builds on two decades of success measuring five process variables for gas, liquid and steam with one connection. Now, with the latest hyper-fast microprocessors, robust software applications, field diagnostic and adjustment capability, and a new state-of-the-art flow calibration facility, Sierra's vortex iSeries delivers precision, performance, and application flexibility never before possible.