With installations of 367 megawatts in the first quarter of 2016, the German-based company Gantner Instruments has established itself as one of the biggest independent photovoltaic monitoring companies worldwide.
Since January 2016, the PV business unit Gantner Instruments Environment Solutions has already provided turnkey monitoring and control solutions for 33 projects in the United Kingdom alone. During the last week of March, the PV team set up and commissioned 18 sites in Great Britain at the same time. All of these installations meet the obligations of the Renewable Obligation Certificates (ROC).

30 percent market share in Germany
Further markets for the provider of flexible products with open interfaces and industrial solutions are Germany, India, the Philippines and the MENA region. Even in very competitive markets like Germany, Gantner Instruments installs more than 30 percent of all new utility scale monitoring systems. "Our aim is to be the best partner for cost effective monitoring and control solutions worldwide, and to perfectly fulfill our customer's needs for simple, easily digestible data and risk reduction", says Joerg Scholz, CEO of Gantner Instruments Environment Solutions. "We are very happy that several leading players along the PV value chain - starting from Tier 1 PV module producers and leading EPCs to O&M companies and asset owners - trust our solid and reliable technology."
Among Gantner's new markets is the Middle East North Africa (MENA) region. "We are represented in all relevant tenders and project enquiries in the MENA region. As soon as the market starts up, we will be part of it", adds Scholz.
Lowest running costs in the PV industry
Gantner Instruments has been winning over its customers with flexible products that enable the lowest running costs available in the PV industry. Thanks to the predictive analyses, the products reduce the risks for power plant owners and operators.
The portfolio of Gantner Instruments Environment Solutions includes string combiner boxes, data logging and control solutions, and the independent real-time analysis platform gantner.webportal that enables reliable data acquisition, storage and control.
Featured Product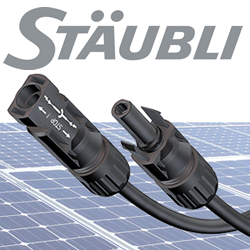 ​Stäubli Electrical Connectors are used on more than 300 GW, over 50% of the PV capacity worldwide. The MC4 family of UL and TUV listed products include connectors, in-line fuses, branch connectors, cable assembly and more.