501 Studios in Austin, Texas is now utilizing renewable solar energy to power their office community of creative professionals while minimizing their environmental impact and reducing operating costs. Alba Energy designed and installed a 44.1 kW photovoltaic (PV) solar power system for 501 Studios in March 2016.
Engineered to help the studio harvest clean energy from the abundant sunshine that glistens downtown Austin each day, the new solar panel installation at 501 Studios will allow the facility to save over $250,000 dollars on electricity costs over the next 25 years. And thanks to Austin Energys Performance Based Incentive for commercial solar installs, this project will pay for itself in under 5 years.

"At 501 Studios, we bring a creative and unique approach to the office space environment that is far too often shadowed by a sea of similarity. Our electric community on the East side of downtown houses production & editing companies, photographers, talent agencies, artists, musicians, fitness studios, boutique shops and entertainment professionals in two blocks of beautiful and historically preserved buildings. And since Austin is a blue dot on a red map, a city that emphasizes sustainability in a state known for its history of fossil fuel resources, powering our facilities with solar was a natural fit for our business," said Richard Kooris, CEO of 501 Studios.
The new solar power system uses 140 LG solar modules installed on the rooftop of the building and can be seen while traveling north on Interstate 35.
"We are thrilled to help 501 Studios achieve their sustainability goals and save money on electricity costs with this new solar panel installation. And its wonderful that the rooftop install is located in a spot that is visible to all who travel through downtown Austin," said Graeme Walker, CEO of Alba Energy. "With the generous rebates still available from Austin Energy, as well as huge Federal Tax Credits, there has never been a better time for Austin businesses to install solar," he added.
About Alba Energy
Based in Austin, Alba Energy specializes in the design, engineering and installation of exceptional quality commercial and residential solar systems across Texas. Learn more information about a solar solution for your home or business by calling 800-238-3112 or visiting www.albaenergy.com.
Featured Product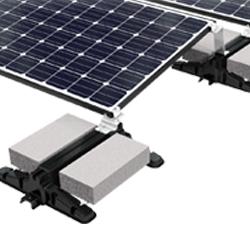 The Power Rail™ Commercial Mounting System is designed with the professional PV solar installer in mind. Both the XD/UD and LD/MD rails feature single tool assembly with the revolutionary patented RAD™ Lock-in-Place bolt for fast and secure module clamping. The high strength marine-grade aluminum rails include an integral wiring channel for securing cables and providing a professional finish.