Join AEE Solar and OutBack Power for a 1-day workshop in Anaheim, California.
Join AEE Solar and OutBack Power for a 1-day workshop in Anaheim, California.

Cost: $45 Registration Fee covers a full day of training with catered breakfast, lunch and refreshments.
6 NABCEP CE credits available.
When: Friday, June 10, 2016 9AM - 5PM
Where: DoubleTree Suites by Hilton Anaheim Resort
2085 S. Harbor Blvd., Anaheim, CA 92802
Learn how to grow your solar PV installation business into the battery backup segment. We'll go over the basics of adding batteries to an existing system using AC coupling as well as starting from scratch with cost-effective grid-interactive power systems. Topics will include:
• Difference between grid-direct and battery backup systems
• Using pre-designed systems to optimize the sales process
• Discussing an energy budget with your customer
• What you need to know about batteries
• Why whole-house backup is usually a bad idea
• What goes in the critical load panel
• Incorporating AC generators
• Preparing for an energy storage option
Register Today!
Featured Product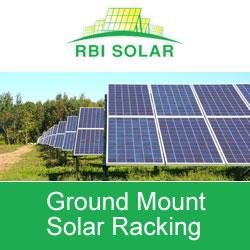 RBI ground mount solar systems are designed and engineered for each customer's site specific conditions to minimize the field installation labor and require no field welding, drilling, or other on-site fabrication. Our meticulous project planning and precise execution combine to provide you with solar racking solutions that are tailored to the unique conditions of your location. RBI provides a wide range of PV mounting systems in various sizes to offer freedom and flexibility to support every type of PV module. RBI Solar ground mount system is a perfect utility scale solar racking solution with two models classified by Intertek to UL subject 2703. ETL Classified systems include proven models GM-I and GM-T which have been used on many large commercial and utility scale solar racking projects across the country.